New Year = New Opportunities
This year, the opportunities are a bit more tangible than usual for aspiring farmers and gardeners.

It's 2015 – The Year of the Upstart Farmer!
What does that mean?
It's a time where cultural values around entrepreneurship, local food and transparency are converging to create the ultimate atmosphere for small farmers ready to take action in starting their own commercial farm.
Let's dig deeper…
The Year of the Entrepreneur
As a new farmer, you're also an entrepreneur.
And few times in history has there been a better time for entrepreneurs- especially those starting a small farm.
From the healing economy to the ease of connecting with customers and investors with technology, the conditions are just right.
It's such a good year that both Inc. and Entrepreneur magazines have published articles titled: "10 Reasons Why 2015 Will Be the Year to Start Your Business."
But you don't need a few magazine publications to tell you about the opportunities for aspiring business owners.
Just look around. We're living in the connection economy now.
Literally everyone and their cat is online.
And because everyone is online, everyone is connected.
These powerful connections empower anyone to create their own platform to tell their story, share their vision, and even fund their dreams.
Now, anyone with a website and an idea can start a business.
And what's even more important is that anyone with an internet connection can learn from industry experts on how to be successful in their own ventures.
Access to Information Trumps Access to Cash
Probably the biggest asset to budding entrepreneurs today isn't the ability to easily find investors or crowdfund your ideas, although those are definitely useful things.
The biggest asset to these future small business owners is the extreme access to helpful, high quality information online, usually for free.
You can now learn everything you need to know about starting a business (or in the case of the Upstart Farmer, starting a commercial farm) simply by watching a few YouTube videos.
But that's not the only reason why the time is right to become an Upstart Farmer…
The Year of the Entrepreneur Transparent Local Farmer
If there is one major trend in the food industry right now it's that people don't trust where their food comes from.
Lots of folks are concerned about GMOS, pesticide use and how far their food travels from the farm to their dinner table.
And with good reason.
There are just so many unknowns in the realm of food production today.
It's not hard to see why the demand for healthy, locally grown food is growing.
And this demand is being met!
Not only by small farmers (relative to the big boys of corn and soybean farming) like Cowboy Trails in Las Vegas, NV or Localize Farm in Edina, MN, but also by companies working to get this responsibly grown food to local customers.
According to the New York Times, "a growing number of small businesses are springing up to provide local farmers and their customers with marketing, transportation, logistics and other services…"
Local Farms on the Rise
With more funding and knowledge available than ever, local farmers are popping up everywhere.
With more available funding and knowledge, they are creating a significant force to compete with big distributors.
Empowered by funding and knowledge and entwined with their local communities, small farms adopt a different set of values that reflect the needs of the future and the desires of the consumer.
Transparent local farmers are committed to improving the future of food for the generations that come. We farm in a way that sets up future farmers for success because it's the right thing to do. Period.
We value community because with community comes relationships. Relationships lead to accountability. Accountability leaves no room for overlooked mistakes or back-burner issues, and ultimately results in better food.
The tolerance for a system that delivers tired produce and uses vague claims to boost sales is plummeting. The rise of the organic labels and terms like "natural" and "GMO-free" show the desire for healthy food and transparent sellers.
Now people are realizing that those labels still fall short of their demands.
The desire for health and transparency is only growing among consumers and local transparent farmers like Upstart Farmers are equipped to give these consumers exactly what they want.
The Year of the Entrepreneur Transparent Local Farmer Upstart Farmer
When it comes to "who's who" of local, transparent farmers, the Upstart Farmers are topping the list.
This is because in addition to more accessible funding, markets, and knowledge, there is now better technology. Technology that enables them to innovate, scale, and save resources.
Equipped with the best tech in the field means Upstart Farmers like Chris Lukenbill, Haydn Christensen and Phil Cuddeback can do more than just grow food. They can truly interact with and service their customers' needs like never before.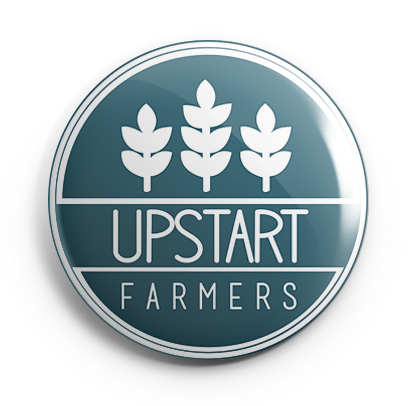 These are real people who are really involved in the growing process, who will really answer their customers' questions!
Bringing the Power Back to the Consumer
When the producer is so accessible, power is put back in the hands of the consumer. Want to know exactly what fertilizer is used for your food? They'll tell you. Pesticides? They'll give you specific names. These are producers who first and foremost value the trust and partnership of their customers.
Doesn't that feel better than walking into a produce aisle and being asked to blindly trust some farmer who you'll never meet or some distribution company that's too big to care?
We've seen the demand for this type of farming grow throughout 2014. We've watched the countless number of small farms pop up in the last year and we've paid close attention to the dozens of signals that it's going to grow on an exponential level in 2015.
Growing demand, in conjunction with growing support, allows the Upstart Farmers reach new markets, build even better growing techniques, and give more to their community.
But why does this matter to you?
The Year of YOU
If you've been tossing around the idea of starting your own farm but don't know where to start: This is your year.
If you're already growing in your backyard or basement and you're ready to take the next step to start feeding people in your community: This is your year.
If you're already growing commercially but you're stuck on how to scale your business: This is your year.
Why are we so confident in you this year?
Because we're in the trenches with you.
We've already helped hundreds of growers launch their own farms and we know that things can seem overwhelming.
We know that business planning isn't intuitive to most folks. We know that designing a commercial system poses challenges to lots of people too.
But there's another thing we know.
We know that with the right resources, partnerships and technology, YOU can can do it.
Make 2015 a Year of Action
As you can tell, we are full of anticipation about what the Upstart Farmers are going to do in 2015.
But there's one thing missing from taking our excitement up a notch.
It's you.
Make 2015 the year you launch your own small commercial farm.
Join our free Upstart Farmers University mini-course to take the first step.
Upstart University: Now Enrolling New Farmers