With today's sophisticated growing equipment, modern farmers can produce local food anywhere there's a market for it, regardless of location or environmental constraints.
The ZipFarm™ – a turnkey indoor farm solution designed for humans – empowers today's most innovative farmers to grow food anywhere using vertical plane growing techniques.  
This unprecedented freedom is a key ingredient of the rapidly growing urban farming and local food movement.
In this post, we're giving you a few tips on what to look for in a building when you're thinking about starting your own indoor vertical farm.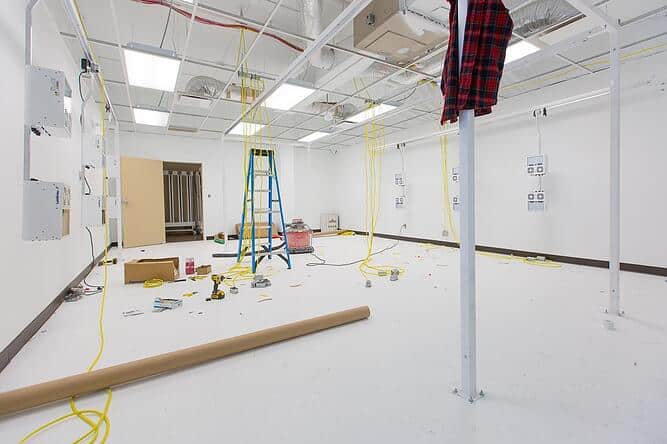 An old classroom is repurposed as a grow room during a ZipFarm™ installation
1) Ceiling height
Growers need space to fit in their farm and their lighting structure. In ZipFarms™, this means enough space for the Light Rack, which is the tallest structure in the farm.
Grow rooms should have a bare minimum of 12 foot ceilings, including the lowest hanging items! This means that if there are heaters or pipes hanging at 9'8", the ceilings are too low. Ideally they would be something between 12′ and 14′.
2) Minimum dimensions
In short, Light Racks and ZipRacks need to fit and leave space for movement. Although each facility is unique and ZipFarms™ can fit into unconventional spaces, there are minimum dimensions.
The ZipFarm™ is 21 feet wide. In addition, growers will need 5 to 10 feet to be able to move freely through the space, so we recommend a minimum width of approximately 26 feet.
The overall length of your farm will depend on how big you choose to build. Each row of ZipRacks requires 5'4″ which leaves adequate room for lighting and airflow. For example, the Introduction to Commercial Pack, which is our recommended starter package, includes 3 rows of ZipRacks for a total length of 16'4″. 
3) Exit access
Fire exits, bathroom exits, and other access spaces are important to farm flow. Make sure that exits are quickly accessible and that they aren't blocked at any point.
This also goes for electrical panels, bathrooms, and anything else that you need to access regularly.
4) Wall protrusions
Drywall nooks and other protrusions can offset plumbing and crunch other dimensions. For example, a section of drywall that may hide a heating vent could disallow the drain line, which runs in a straight line flush to the wall.
Want to know if your facility is right for a ZipFarm™?
If you're currently looking for a farm space, keep these factors in mind. We're happy to plan out layouts and production for those who want help.