A while ago we published a post on the decline of the strawberry industry.
We predicted that the problems with growing techniques like the use of methyl bromide would drive the industry indoors. Aside from the pesticide problem and the complicated techniques for growing outdoors, there are many reasons to grow strawberries indoors.
Today we're lucky enough to hear from two Upstart Farmers growingstrawberries in ZipGrow Towers!
Chris Lukenbill, an experienced vertical hydroponic farmer but a new strawberry grower, is growing strawberries this season for several other reasons.
Why grow strawberries?
There are a few different reasons for adding strawberries to the mix. First, I am looking to give people additional reasons to come check out our farmer's market display. In the past, we've struggled with farmer's market sales due to our very focused and restrictive sales model. This year, we're looking to expand upon that to make our farmer's market something that will both fund itself and make a profit.
Second, we are looking to make the green walls a big part of our business this year. Walls of greens are of course beautiful, but we're hoping to add to that with towers of strawberries and edible flowers to help improve the beauty and expand the appeal of that opportunity.
Finally, I've had everyone around me telling me every year…you need to do strawberries! I guess sometimes I actually listen!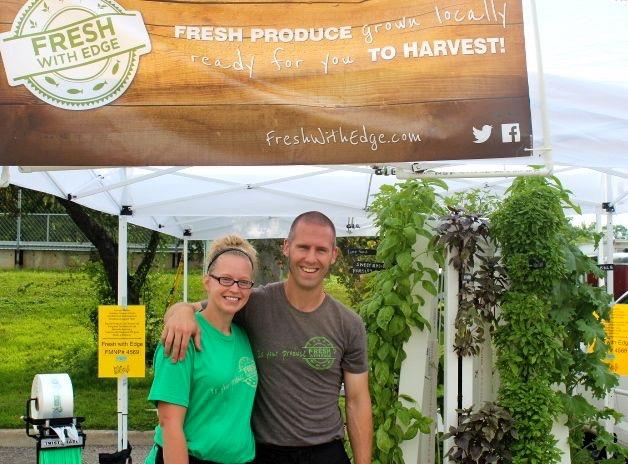 Production techniques for growing strawberries indoors
Will you be changing your current growing techniques to accommodate the crop?
In a way we aren't and in a way we are. We were lucky enough to find a beautiful large greenhouse for our setup when we were looking to purchase at the end of our first year. Because of that we had a lot of open space last year with not a lot filling it up. This year, we're addressing that issue by diversifying into some in ground crops in addition to some flowering/fruiting crops. In order to make the flowering/fruiting crops as successful as possible we're looking to add an entirely new bay and plumbing it into it's own specific nutrient source that is optimized.
While other growers such as Haydn Christensen grow strawberries in the same system as other crops, using the same nutrient mixture, you may see even better production if you use a nutrient mix that is specially formulated for fruiting crops, which usually use up more nutrients than leafy greens.
Haydn Christensen recommends fewer than ten plants per five foot tower, and says,
My berries this year are just planted into the regular system with the herbs and greens. I will leave them there till April/May and then put them outside with their own strawberry formula from hydro-gardens. I grew them with the greens before and they did okay but I want to see how they do really pushing them with the proper formula.
I also learned before to keep the crown well out of the media so they aren't soaked. They generally don't like salts so I will probably try to do some intermittent irrigating and pure water flushes when they get moved into their own system and see how that affects them. My goal is to aim for 20 lbs per tower this year!
Where to get strawberries?
Perry Baptista says, Our favorite variety here is Seascape, an everbearing strawberry. If you've looked at [Dr.] Nate's dissertation or the Production Estimates Guides, this is the variety that the trials were done on. We grow them in the same system as everything else – no special nutrients.
Haydn Christensen from Bayberry Fresh gets Seascape variety from Peaceful Valley.
Prepare for potential issues
From our experience, mites are the most likely problem that you are to experience, but luckily can be taken care of with Neem oil. (Be careful with Neem oil in aquaponics.) Haydn Christensen says:
Strawberries seem to be a real magnet for them [mites]. They also get botrytis and a whole host of diseases but worst case scenario you just kill the berries and the diseases shouldn't transfer over to the tougher herbs/greens to much. I would watch for pythium and phytophthora in them however as those could spread.
Chris leaves us with this encouragement.
The learning curve with a new crop is always there, however the support we receive from Bright Agrotech and the fellow Upstart Farmers makes that a relatively small issue. In addition to that, we'll also be looking to that same support team to help us through all of the additional pest and disease issues that also come with new plants.
Chris is right. Challenges are quickly resolved when you are part of the Upstart Farmer community. Learn more about what it means to be an Upstart Farmer.
Ready for a strawberry-theme throwback?
Check out this video from Dr. Nate's experimental strawberry trials in ZipGrow towers way back in his research days.
You can find stats on strawberry production in this free ebook.