Controlled Environment Agriculture (CEA) is a technology-based approach to food production using hydroponic growing methods in a highly controlled environment. For those working in the industry, even at an entry level, it requires some knowledge of chemistry, engineering, plant pathology, and physiology, as well as foundations in hydroponic growing.
If you do a quick online search for "CEA industry," you will see streams of articles about the growth of this ag-tech sector. Despite some recent headlines of farm closures, the sector is still BOOMING; it's estimated to reach a global value of US$ 124.9 billion by 2027. Rising populations and lack of access to arable land are other major driving factors for job growth within the CEA sector.
But is the industry prepared with a knowledgeable workforce for this surge in demand?
Do another quick online search, "CEA industry education," and the options are limited for those seeking hands-on experience without purchasing a farming system. The ratio of training opportunities in hydroponics for business versus job availability is very limited.
As the industry develops, it's crucial that training opportunities and education are there to support it. 
This is one of the key reasons why ZipGrow Inc. partnered with St.Lawrence College in September 2022 to host a Controlled Environment Cultivation Program. Essentially a pilot course, the eight-week program provided both in-class and lab learning to students to prepare individuals for a career in indoor farms and greenhouses that produce food, cannabis, or ornamental crops.
Supported by targeted assistance from the Eastern Ontario Training Board (EOTB), the course was specifically designed to accommodate an intimate class size of 15 adults. We are thrilled to say we had amazing engagement and 12 students graduated in November.
Students Adam Lariviere and Devin Walker are two recent graduates of the program. Their backgrounds differ, but their goals are aligned; to better prepare themselves for jobs of the future.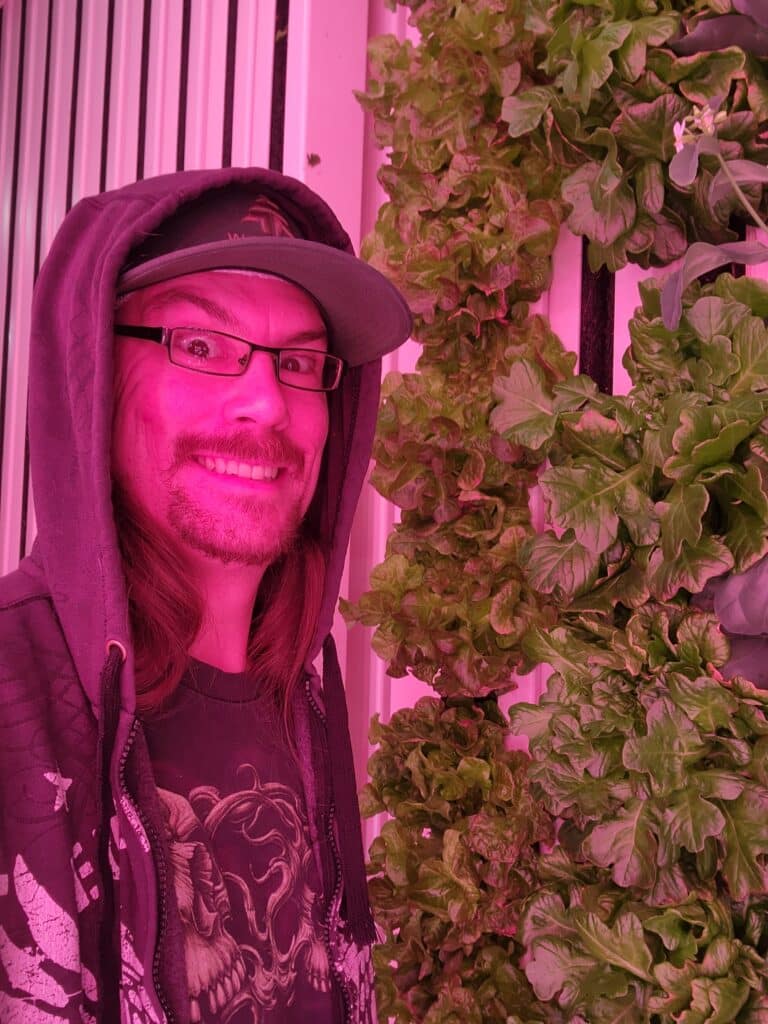 Adam is a local entrepreneur with experience owning and operating a local food & beverage business and 3D print shop. "I'm an entrepreneur at heart, and because of 3D printing, my mind works like an engineer. I'm always trying to fix things and figure out how they work." 
He's had an interest in gardening since childhood, and combined with his curiosity for plant science, biology, and nutrition, the course's hands-on learning checked many boxes for his passions.
Devin also has a green thumb, plus accreditations and experience in construction, arboriculture, and tech design. "I had the engineering and construction knowledge and wanted to apply this to an industry that is really looking to the future, then I found this online and knew this is what I wanted to do."
With some previous hydroponics experience at home with deep water culture and growing microgreens, he was intrigued by the course offering. 
"The dream for me is to help people to be self-sufficient enough to grow their own food with localized supply chains where people can share."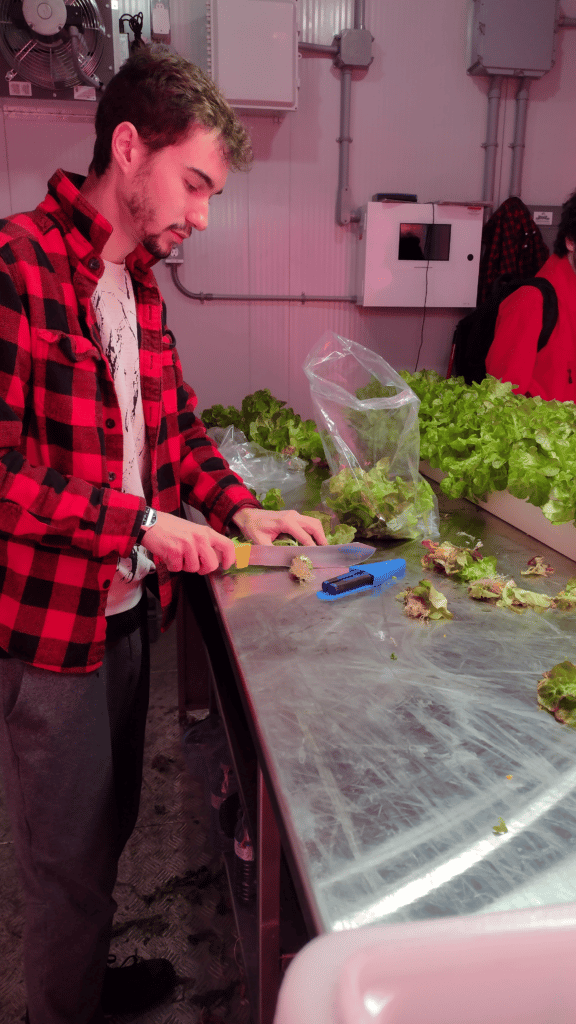 The course curriculum included lessons on:
Plus health and safety training, soft skills such as decision-making and problem-solving, and professionalism-work ethics.
Each student was also given a one-year membership to Upstart University, which covers the fundamentals of hydroponic growing and CEA business acumen.

"With the supplementing of UpStart University, you could literally learn as much as you want," said Devin. "You could take your own time after class and do all the research available to you."
The course structure was split between in-class lessons at St.Lawrence College and at ZipGrow Inc. HQ, with lab days every Friday at the Research & Development ZipFarm.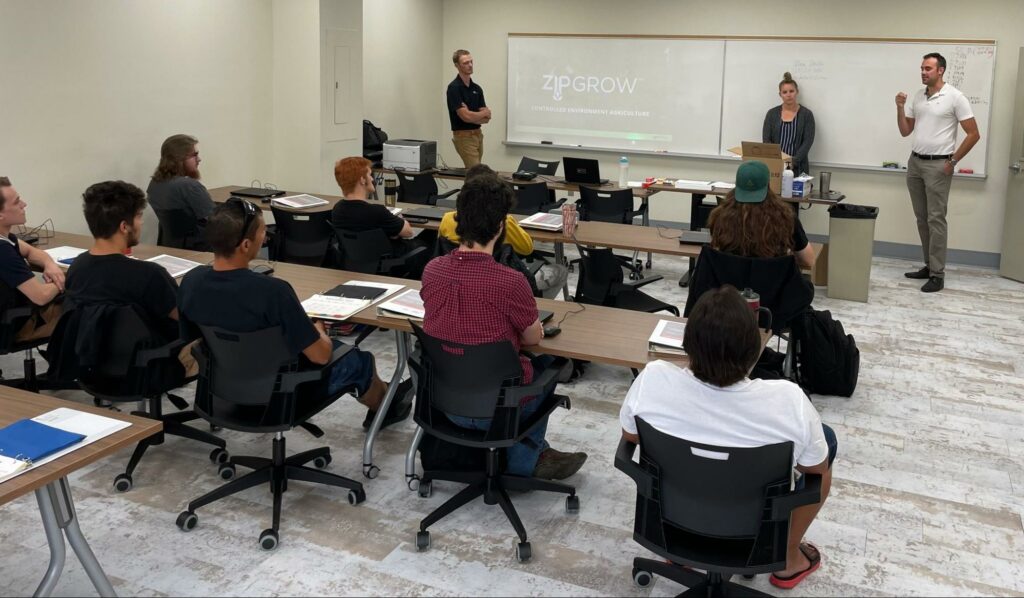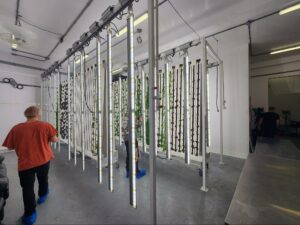 While ZipGrow Inc. and St. Lawrence College directed the course, it was not specifically focused on ZipGrow technologies. It covered all types of hydroponics, including DWC, drip irrigation, and aquaponic systems.
"We also studied highly industrialized systems and automated systems like the ones at Plenty," said Devin.
A myriad of industry professionals from the Eastern Ontario region, including local representatives; Mesha Boyer of Fieldless Farms, Mark Young of CO2 GRO, Jamie Ghossein of Cannabis Orchards, and Matthew Lalonde of Cornerstone Organics instructed the course content.
And what student doesn't love a field trip?
These included Cornerstone Organics, a local independent organic farm that recently expanded operations to include an aquaponic farm. And SunTech Greenhouses, a year-round, hydroponic greenhouse business best known for its tomatoes, cucumbers and spanning four acres of fresh produce.
"I really enjoyed the different instructors with different points of view," continued Adam. "We got to learn a wide variety of things. The course gave us a really great overview, and literally every day, there was a different subject. There was a lot to take in. It was very condensed."
Field trips extended to the ZipGrow Research & Development Greenhouse facility in Kemptville.
"Visiting the campus in Kemptville was incredible." said Devin. "Everything we learned there was directly relevant to our course, and we could see the practical application firsthand so we could visualize what we were trying to learn. This is the most amazing class I have ever been in by far. The different teachers, experience levels and perspectives, and all the shared personal experiences made it really enjoyable."
The course offered students a chance to see how far the ag-tech industry has expanded. Another Ag-Tech innovator at the Kemptville Greenhouse is Proteins Easy Corp, and this bonus presentation showed students a different side to ag-tech and plant science. Students learned about DNA technology in medicine and the recombinant production of fusion proteins for the global biotechnology industry. "It was super interesting," recalls Adam.
Devin and Adam were keen students eager to learn more, and It's pretty easy in this industry to head off down a rabbit hole of discovering new insights and projects.
"They (the instructors) gave us lots of references. It gives you a seed; if you water it, you will get what you are looking for," said Adam. "One perspective I got from the course is that we are going back to our roots of growing our own food, just in a different way! You don't have to have a yard; you can even have a couple of Towers in a closet. Back in the day, you didn't go to grocery stores; you would trade with farmers, trade and grow your own."
"We have absurd amounts of information on our laptops now," joked Devin.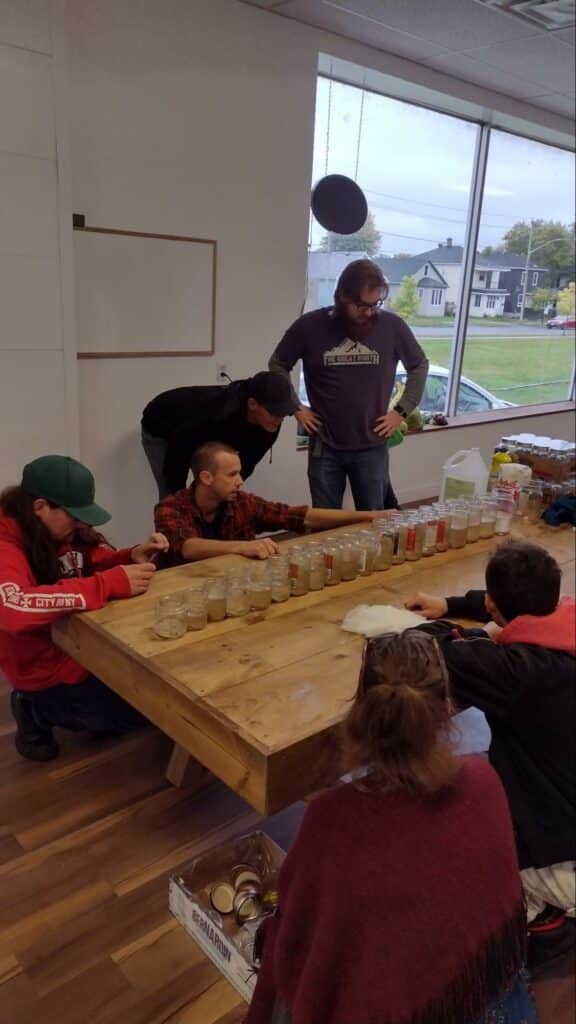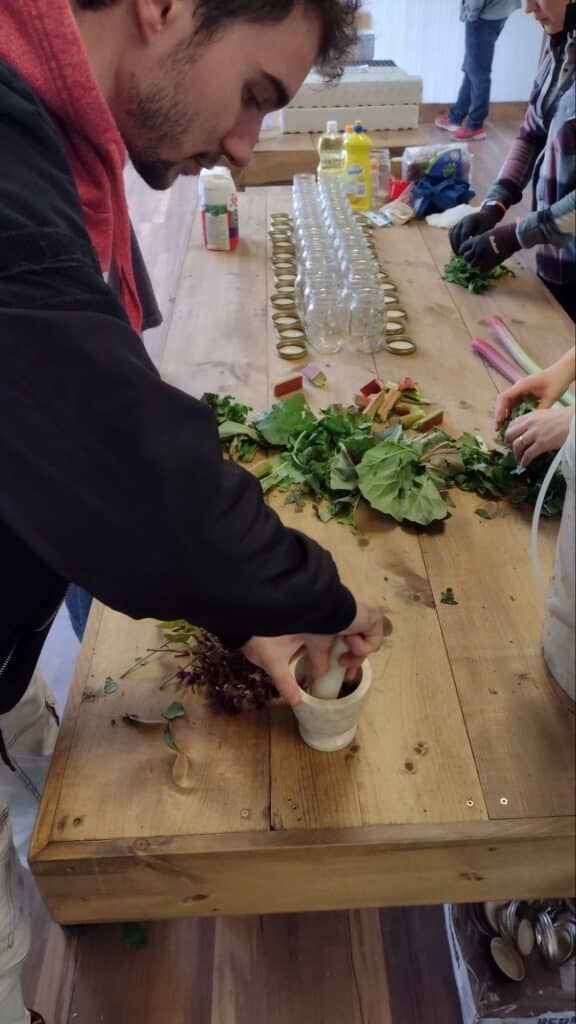 The students learned a variety of ways to prepare nutrients from organic matter including extracting calcium from egg shells with vinegar and basil/sugar muddled paste. They also made  biochar on a micro-scale by barbecuing organic materials such as sticks and roots at a high temperature with the absence of oxygen. This char houses beneficial bacteria and microbes which increase specific fertilizer properties to encourage healthy plant growth.
Most students, including Devin and Adam, had never been inside a controlled environment  farm other than a greenhouse. 'It was like going into a spaceship; it was incredible," said Devin.
Adam took a lot of pictures on lab days. In fact, we can accredit most of the images in this blog to him. "It was super interesting, and I wanted to share it with people. It has definitely sparked a passion in me."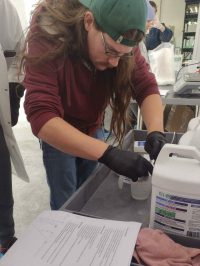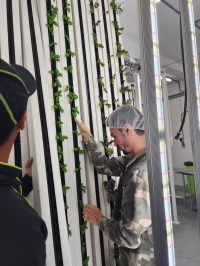 In the ag-tech sector, growers are often responsible for collecting data and tracking crop performance. Both students were surprised to learn that there's a high demand for jobs in the field of research and development. They are also inspired to know that this education opens up doors for them to work internationally in an industry where if you work hard, and are keen to learn, you can move up the ladder quickly. 
It's also an industry they see as favorable for sharing knowledge.
"The most surprising part for me is how open everyone is to sharing information," said Adam. "Even between companies, almost like open source. They are trying to forward this together for the greater good, and you don't see that in many industries."

Before completing the course, Devin and Adam had interviews from multiple companies, ultimately resulting in a happy ending and new beginning with employment as farm technicians at ZipGrow Inc. 

As new hires, they are very excited to put the skills and training directly into farm projects and support the team of engineers, sales, and researchers. 

"For me, it's about improving systems," notes Adam, "making changes to find little ways to improve how you can work in the farm. I went into the course without expectations and found a new passion." 

Nobody really knows what the future of food or farming will look like, mega indoor farms? Or more localized food sources? But we've learned from developing this CEA course that collaboration, sharing knowledge, and resources benefits everyone. 
We are open to further partnerships to help support the next generation of indoor farmers. Who is with us?
If you are interested to hear about future course offerings, sign up for our newsletter for future announcements.
Want to get started on hydroponic education at your own pace? UpStart University has a 7-Day free trial!