Local food doesn't get any more local than home grown 365 days a year, which is why home hydroponic growing is experiencing a boom. Amplified by the pandemic and the need for communities to be more self-sufficient, the last two years there has been an increased demand for localized food solutions. This in turn has accelerated interest and curiosity in hydroponic systems for homes and schools.
One of the biggest challenges for hobbyists starting out in hydroponic growing is just knowing where to start. With all the options available on the market it can be overwhelming. The other obstacle for many is finding room to grow indoors, especially if you live in a small home, hi-rise or apartment.
These are the needs that inspired the creation of ZipGrow's most recent product the ZipGarden.
The ZipGarden supports growers who want low maintenance and efficiency but also want something sleek and simple that will harmonize with their surroundings.
Simple, beautiful and abundant
The ZipGarden™ comes as a complete, easy to assemble kit with lighting, pumps, timers and a mini seedling station. It's also suitable for schools and educational centers, but you don't need a college degree to use it!
Like all other ZipGrow systems, the lightweight towers are at the core of the operation. "Zip" the seedlings in and watch them grow.
The ZipGarden is streamlined, visually appealing and enables you to grow a healthy source of fresh leafy greens, herbs and fruiting plants in a small footprint no matter the climate.
Sprout your seeds in the nursery (included) then transplant the seedlings into the ZipGrow Tower where they will grow into mature plants until they are ready to harvest.
The system comes with complete details on how to add nutrients, fill your reservoir, and set the timers for lighting and dosing.
Just like with traditional gardening methods, there will be successes and maybe some failures along the way. If you keep an open mind and willingness to learn at your own pace, you'll be amazed at how quickly you can advance to growing a larger variety of crops. At ZipGrow, we are always here to support your growing journey, through our YouTube Channel, UpStart University or simply by sending us a message.
Designed and engineered by growers, for growers
There are so many home growing options in the market, but we wanted to create a lifestyle product that stands out from the crowd and makes you the user shine!
The ZipGarden was developed in-house at ZipGrow after years of inspiration from our customers who continually tinkered with beautifying their FarmWalls. We saw so many creative and innovative designs that we loved, and used those ideas and customer feedback to guide our design process.
We adopted the help of Momentum, a local award winning design firm to tweak the finer details of design for manufacture and development. The ZipGarden took the better part of 16 months to configure and engineer, all the while keeping user experience in mind.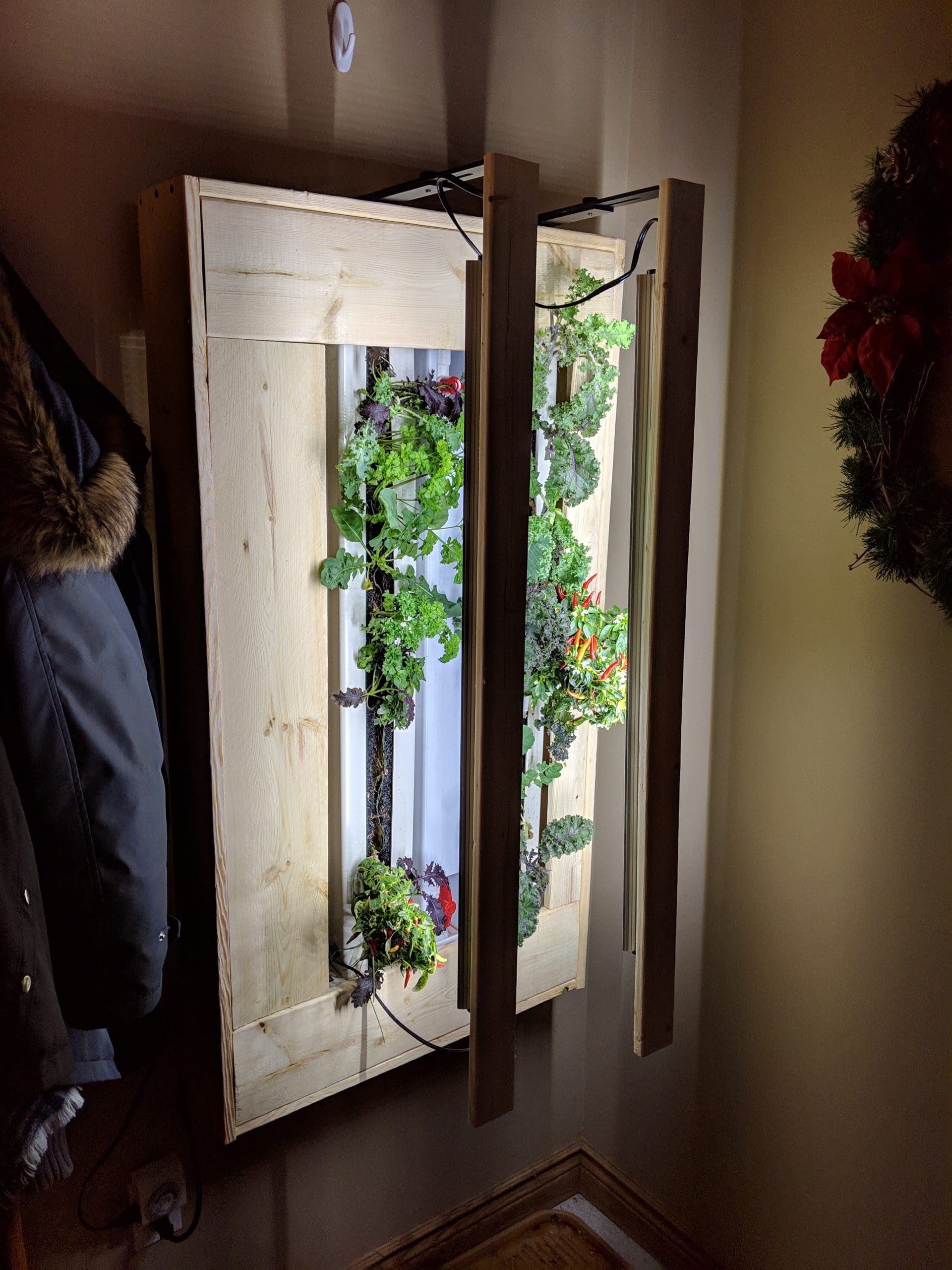 Original concept sketch of the ZipGarden
We are proud of what we've developed as a collaboration between our company, our partnerships and our customers. Whether you're a homeowner, educator, adult or child, you'll be proud of what you can grow in just a matter of weeks.
Living and working with nature
Covid-19 has escalated demands not only for food security but also for mental well-being.
The ZipGarden is a "living furniture" that brings the outdoors in while providing nutritious fresh greens to your space. What if while we are spending time inside we can also stay connected with nature.
If you are not already hooked on hydroponics, this system will boost your confidence in soil-less growing, all while looking oh so beautiful. Maybe one day in the not so distant future, home hydroponic systems will be as commonplace in the kitchen as a refrigerator. Pass the salad dressing!