On June 23-24, two of ZipGrow Inc.'s team managers, Peter Toonders and Tyler Harbers, alongside President Eric Lang, had the pleasure to exhibit and attend the Indoor AgTech Innovation Summit 2022.
It was great to be back to attending in person events once again; nothing beats connecting with other industry professionals in a collaborative setting.
The summit welcomed over 650 of the world's leading growers, retailers, investors, seed companies, and technology providers.
"It was a true business-to-business event with world class players, start-ups, and innovators sharing ideas and insights with the common goal of food security without boundaries. It was evident that the demand for alternative solutions to making food more accessible to communities across the globe is greater than ever and that the technology already exists to make it happen. "

– Eric Lang, President, ZipGrow Inc.
Day one opened with an inspiring speech given by New York Mayor Eric Adams, who told his own personal story of the impact that a change to a healthier diet had on his life and his optimism about the future of food.
"You are scientists, inventors, you see this as inventing a product, and that is probably your passion, but what you are producing is really impacting our entire city, country, and globe…We are going to change the way that we think about food by marrying technology, ingenuity, and healthy nutritional food to save the people of this city and the people of this country."

– Eric Adams, New York Mayor
Throughout the two day event, a long list of speakers, including the inventor of the ZipGrow Tower Dr. Nate Storey, discussed a wide variety of topics. These speakers and panelists helped inspire and educate a large audience wanting to learn more about innovations in agriculture.
Three men and a ZipGarden
We drove to New York this year with our ZipGarden in tow, so when we set up our booth our fellow delegates were curious to see its sleek design. It was revitalizing to have our living wall of mint, chives, coleus, and chile peppers on display; it certainly turned a lot of heads.
At the end of the weekend the plants were donated to local New York gardeners.
Many conversations we had at our booth steered back to making indoor farming opportunities more accessible to a wider audience, so we also had the chance to brag a little about our latest technology, the ZipPod. We don't like to boast, but we're very proud of the research and work that went into its creation. It's the first chance we've had to talk about the ZipPod in person and it was met with great enthusiasm.
Focussed on in-person sessions and networking with a live audience of delegates in the room, the summit extended to a global audience via an interactive livestream. Thirty-five countries were represented, with 660 delegates in attendance and 90 international speakers.
We met plenty of innovators, educators, and start-ups.
Here are some of the highlights that stood out from our team:
The keynote speakers were engaging and insightful, they shared ideas about building resilient and healthier food systems into our communities and about what the future of food can look like. The technology that exists today is powering a new generation of fresh food production grown without the need for pesticides and fungicides and kinder to the planet. The success of many of these companies is due to the acceptance from local governments and strong alliances with other key stakeholders.
We sat in during an exciting presentation from Stephen Ritz, Founder of Green Bronx Machine. He shared his story about how he became America's Favorite Teacher while creating the world's first edible classroom and changing the lives of a generation of children.
The company now manages one of the top 10 health and wellness programs in the US building healthy, equitable, and resilient communities through inspired education, local food systems, and 21st Century workforce development. They have formed partnerships with some of the world's most-recognized companies and organizations, and have a full-service school model that can easily be replicated.
Speakers Joel Cuello (University of Arizona), Jade Stinson (Vindara), John Purcell (Unfold), John Reich (Foundation for Food and Agriculture Research), and Gretchen Raymond (Rijk Zwaan) discussed in a panel how Genetics is moving the industry forward and how their respective companies are validating vertical farming genetics and specific crops.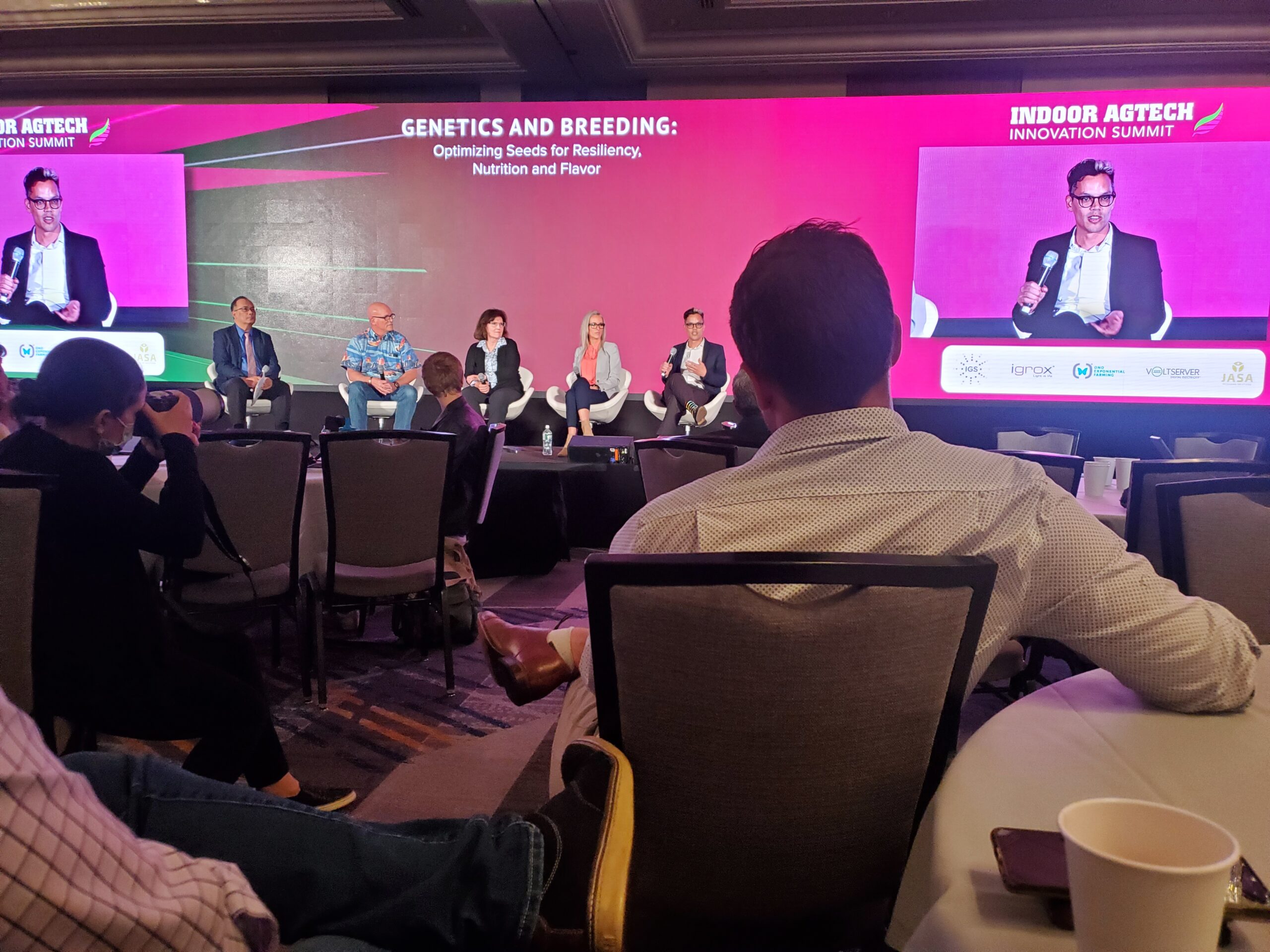 We heard Paul Mastronardi of Ever Tru Farms, a brand new vertical strawberry greenhouse operation in Ontario. He spoke about growing the Ontario strawberry sector and growth in growing strawberries year-round in Canada. This was especially interesting to us since ZipGrow headquarters are located in Ontario. We have been investing a lot of time into research of growing strawberries in Towers at the Kemptville Campus greenhouse facility, and so we could certainly relate to the opportunities that are there.
Endre Szucs is the Managing Director at Bedrock Farm, a Hungarian start-up, we learned about his business that offers growing and operational knowledge as a service about a wide range of leafy greens, herbs, edible flowers, microgreens, and other edible plants.
We also had an excellent conversation with Agritecture CEO Henry Gordon-Smith who shared critical feedback and his thoughts on the challenges of remaining transparent and avoiding Greenwashing in an increasingly competitive environment.
If you are not familiar with Agritecture, you may want to get them on your radar. They are the world's leading advisory firm on urban and controlled environment agriculture, working with clients of all types – from entrepreneurs, to investors, to technology providers – in more than 35 countries. Their blogs on sustainable farming and localizing food are insightful and based on real life experiences of their clients and global economics.
Viraj Puri is the CEO and founder of Gotham Greens who build and operate advanced, data-driven, climate-controlled, and sustainable greenhouses in cities across America. He touched on the challenges of sustainability and localizing the food supply. Advancements in machine learning and data analysis allow them to monitor crop health and progress, so they can deliver a fresher, more delicious product. They also partner with local schools, community leaders, and non-profits to put better food on the table through environmental, educational, and community initiatives.
"Farming is stressful. Your plants think so too." That's the tagline for Danielle and Matthew Rose who are the co-founders of Ceragen. They are using their expertise in microbiology to optimize how we use beneficial microbes in hydroponics. They focus on helping farmers increase their crop yields by improving the plant's response to environmental stress. Based out of Kitchener, Ontario, they are another innovative company close to our home turf.
Watch the founder story here;
When we hear about crops that are not traditionally grown in hydroponic systems that have successful trials leading to full commercial operations, we pay attention. Gone are the days of only leafy greens for hydroponics, technologies, and research is now allowing a wider variety of crops to be grown indoors with excellent yields.
A standout for us at the event was Nordic Wasabi. It is the first product by Icelandic start-up Jurt Hydroponics who are using hydroponics to grow wasabi in advanced greenhouse systems for direct-to-consumer sales and export.
Ever wonder what fresh wasabi looks like? Check them out on instagram – their photos are stunning!
Then there's seed company Graines Voltz from France who have an exciting new line of herbs specifically for Vertical Farming. They are an ambassador for genetics that are new to Europe. With over 28,000 products, they offer a unique variety of products distributed on the European market to professionals and consumers.
Innovations introduced and adopted today are opening the doors to more accessible and nutritional food for ALL. We wish we had the time to chat with all of these incredible founders, CEOs, and leaders. We learned so much over the two days that left us feeling inspired and we will certainly be back for more in 2023.
In an increasingly fear-filled world, we were left with a sense of hope after hearing how business leaders and governments around the world are responding to ever evolving environmental pressures.
At ZipGrow Inc we will continue to stay informed, adopt new advances and build relations so that we can pursue our vision of a world with a global community, who all have equal access to exceptional quality food that is both environmentally and economically sustainable.