At ZipGrow Inc., we believe small farmers are the core for the future of food production. They are enabling themselves and their communities to be less dependent of traditional agricultural systems. To create that power in the hands of the grower, we give people an achievable way to start farms. We work hard every day, challenging ourselves and our teammates, to make that happen.
In an effort to empower more of these urban farmers, ZipGrow™ is launching a turnkey vertical indoor growing package called the Introduction to Commercial Growing Package.
The Introduction to Commercial Growing package contains everything you need to start a small commercial indoor ZipFarm™. The best part is that all equipment is modular, so when you want to expand your operation you can easily add on additional Zip Racks to this package to increase your production volumes.
The approximate dimensions required for the grow space, seedling area, plumbing and harvest space are 27'L x 20'W x 11′ minimum H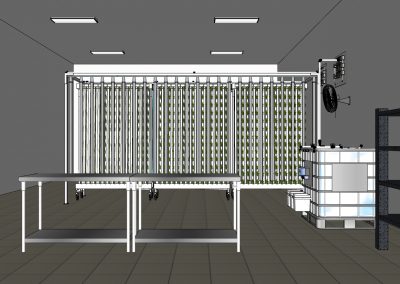 Components
Three ZipRacks with 8′ ZipGrow™ Towers
The ZipRack is the core component of any ZipFarm™. These patented modular steel frame units comes with the necessary headers, gutters, drain lines, and plumbing components, as well as thirty 8′ ZipGrow™ Towers with Matrix Media™ and Wicking Strips. This package includes three ZipRacks for a total of 90 ZipGrow™ Towers.
One Light Rack with Single Sided LEDs
The ZipGrow™ Light Rack is essential to any successful ZipFarm™. The Single Sided LED Light Rack is designed for use at the end of each row of ZipRacks. It contains 48 Single Sided LED Lights, along with the required LED drivers and steel light rack structure.
One Plumbing Package
This Plumbing Package includes a 330 gallon reservoir, pumps, filter, UV clarifier, reverse osmosis system, and cutting edge ATOM Auto Doser.
One Seedling Starter Area with LEDs
Your Seedling Starter Area is where your seeds will begin growing. This kit includes one steel rack, three 2′ x 4′ flood tables (enough to fit 2,400 seedlings), nine 4′ LED lights, one submersible pump, one 25 gallon reservoir, one air pump, one air stone, and the necessary fittings.
Three In Line Rack Plumbing
To get your ZipRacks connected to your plumbing system you require in line rack plumbing. Each of these kits includes the required fittings, return plumbing lines, and drainage pipes for one ZipRack.