Pictured left to right, students Bianca Cella and Caitlyn Baker, students at Char-Lan District High School use the ZipGrow Educational rack system to grow food hydroponically.
Teachers and educators are discovering the value classroom gardens can offer students of all ages and governments are stepping up to provide more funding to support innovative and inclusive teaching tools.
Classroom gardens can help to introduce and integrate STEM learning into the curriculum, a framework for teaching across the disciplines of Science, Technology, Engineering, and Mathematics. 
It's widely documented that STEM will be much more important and even essential for the jobs and careers of the future. Today's students are tomorrow's leaders. By providing opportunities for them to learn as they explore, discover, create, improvise, test theories and imagine, they will be better prepared for future careers.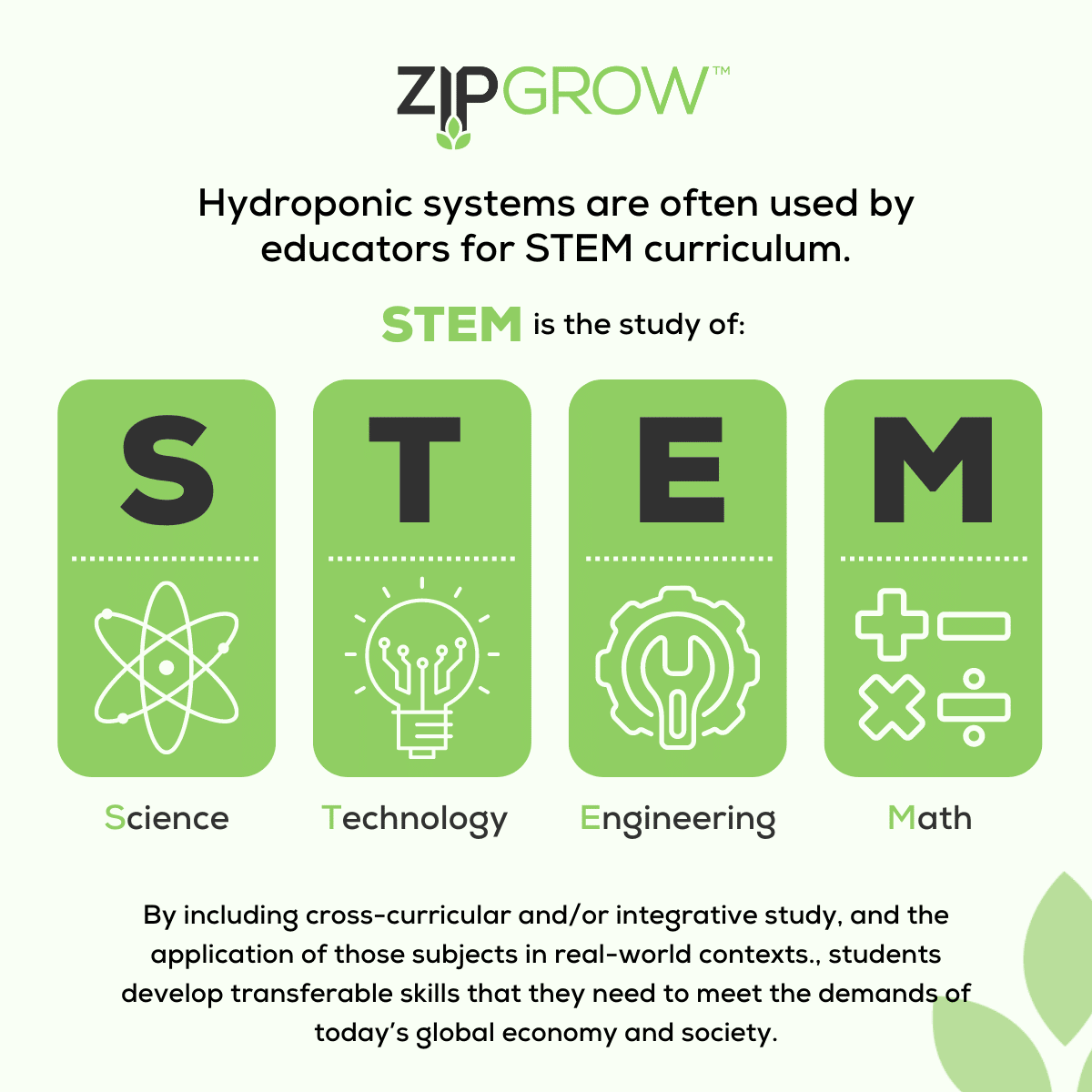 So how do hydroponic gardens factor into this style of teaching?
We've been chatting with some educators to find out how they integrate STEM and inclusive, hands-on teachings into their curriculum using ZipGrow hydroponic systems.
Heather Grant is an educator at Char-Lan District High School in Williamstown, Ontario. In June 2022, along with fellow educator Francis Olivera, she was awarded the Upper Canada District School Board (UCDSB) Trustee Innovation Award. 
The recognition came from their efforts in promoting real-world learning, experiential learning, and hands-on fun activities for student learning with indoor and outdoor gardens.
The school already has a very successful and well-structured outdoor growing program, complete with a greenhouse. A hydroponic system for indoor growing was their "wish list" for a while. When funding from their school board became available in 2015, they acquired a ZipGrow™ Education Rack system with 8 hydroponic towers. 
Heather sees this as an extension of their teachings;
"It's perfect because we can grow a wide variety of crops, and the fact that it's on wheels makes it very convenient to move from one room to another to put on display for special events."
It provides an inclusive way for youth to participate in projects encouraging them to think outside the box and preparing them for problem-solving. Students benefit from the curricular connections, including quantifying data, food drives, sustainability, cooking & hospitality and economics. 
"Students are engaged and enjoy working with it. Many of them say they find it a great break in their day or find it relaxing, and they love to cut their own fresh greens they grow at school, and they're proud to bring it home and share with others."
In this video Heather explains the value this system has brought to the students and teachers and how growing hydroponically seamlessly blends into their current curriculum.
Some ideas that Heather has included in her teachings that you can try in your school setting:
There are many connections to Science experiments and science fair projects too.  
"We've had students plant and grow from seed and experiment by tracking growth in the education rack versus seedlings grown outdoors. We've also had students experiment by testing out growing flowers and strawberries to make connections to things like pollination and horticulture in science ."
"Being able to participate in a food drive and be able to produce fresh greens cut the very same day is very meaningful for students."
Students have grown strawberries, kale, about four types of lettuce, spinach, Swiss chard, basil, cilantro, chives, mint, dill, Bok choy, and mustard greens. 
"Some other types of systems we looked at were mostly enclosed. With the education rack, we can see the magic happening in front of our eyes! This makes it a great learning tool, and students like to peer into it to see the drops of water penetrating the roots with nutrients."
Are you a teacher using ZipGrow systems in education? We would love to hear from you and discover how you incorporate STEM teachings or life-lesson learnings into your curriculum.