Hundreds of educators around the globe use hydroponics in their classrooms. And we've had the privilege of working with dozens of them! They've implemented this Soil-Less Science technique into their classroom curriculum and are producing great results… but why?
For all you teachers out there still on the fence, here are four reasons to use hydroponic gardens in your classroom to boost student buy-in and creativity.
1) Because it creates context in your math and science lessons.
Some of the best teachers we had were the ones who not only taught us information and skills, but allowed us to adopt that information or skill into our own life by making it relevant and giving it context.
The world just makes more sense in context. Whether that's a chemistry lesson or it's a biology lesson, if it has some real world application that students can touch and affect it's a much more meaningful lesson to grasp.
Why not employ a teaching tool such as a hydroponic garden to give students tangible lessons they can touch and even eat? Hydroponics gives students opportunities to build and maintain a real live growing system, plant and harvest crops. Suddenly the lessons they have been learning are being applied to something they truly care about and the lessons come alive in context.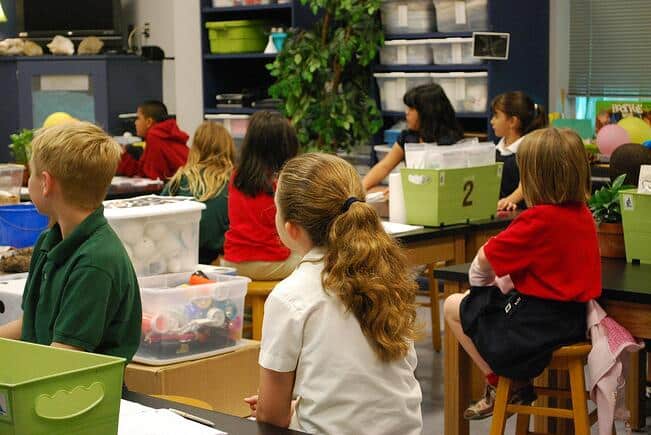 2. Because it's fresh, innovative and intriguing.
Student participation seems to be an unending battle for many educators. It's tough to get students enthusiastically engaged in what you're teaching. Hydroponics does this by being innovative and new.
Growing plants in soil is such a familiar concept to almost everybody that the idea of growing plants without it intrigues them. Hydroponics is the most exciting technique used for growing plants.
These are the fresh ideas that teachers all over Canada and the U.S. are using to inspire students' creativity and encourage innovative thinking. Character traits are so crucial to being successful once out in the "real world."
3. Because it unites the surrounding community.
The tangible products of classroom hydroponics, or any school garden for that matter, can impact the surrounding community in a powerful way. Whether that translates into supplementing cafeteria cuisine with fresh herbs or selling classroom greens at the local farmer's market, the lessons go far beyond the classroom door.
Schools on all levels are building hydroponic systems, growing produce, and sharing with the community. Kids gain the experience of sharing with the community and seeing the results of that community spirit firsthand.
4. Because it supports a teacher's curriculum and brings lessons to life.
Chemistry, plant and fish biology, math, finance, marketing… the list goes on.
Not only can you teach a wide range of Common Core topics, but you can team up with other teachers to multiply your teaching efforts in ways that boost student learning. Your hydroponics system doesn't have to be limited to one classroom- it can benefit the whole school.
With hydroponics, teachers gain a teaching tool that is useful not only in teaching certain topics, but also life skills and principles.
Conclusion
Hydroponics is a versatile tool that peaks the interest of students, encourages involvement, and amplifies the teaching of not only a wide variety of school topics but also real world skills.