It's time to shift women's role in modern farming.
If I say farmer, what do you think of?
If you've been following Bright Agrotech for awhile, maybe it's Farmer Joe.
More likely, it's an image of a similarly masculine figure, maybe dressed in overalls, driving a John Deere tractor through his fields, right?
Agriculture is traditionally thought of as a man's arena, with women taking a backseat. Yet women have played critical roles in farm production throughout history, from egg and butter sales, to victory gardens, to growing the family's food while husbands focused on commodity, cash crops.
A quick Google search reveals that half the world's farmers are women, with leadership roles in various agricultural industries around the world.
But here in America, female farmers are still few. According to the USDA's 2012 Census of Agriculture, female principal farm operators decreased by almost 6% since 2007, greater than the decrease in male principal farm operators. Women represent only 14% of principal operators, and 30% of all operators.
That doesn't mean women aren't making improvements. Women have always been most involved in the family and community aspects of agriculture, and with the burgeoning local foods movement, women are naturally moving into leadership positions. Still, the total number of women leading the way in agriculture seems awfully small.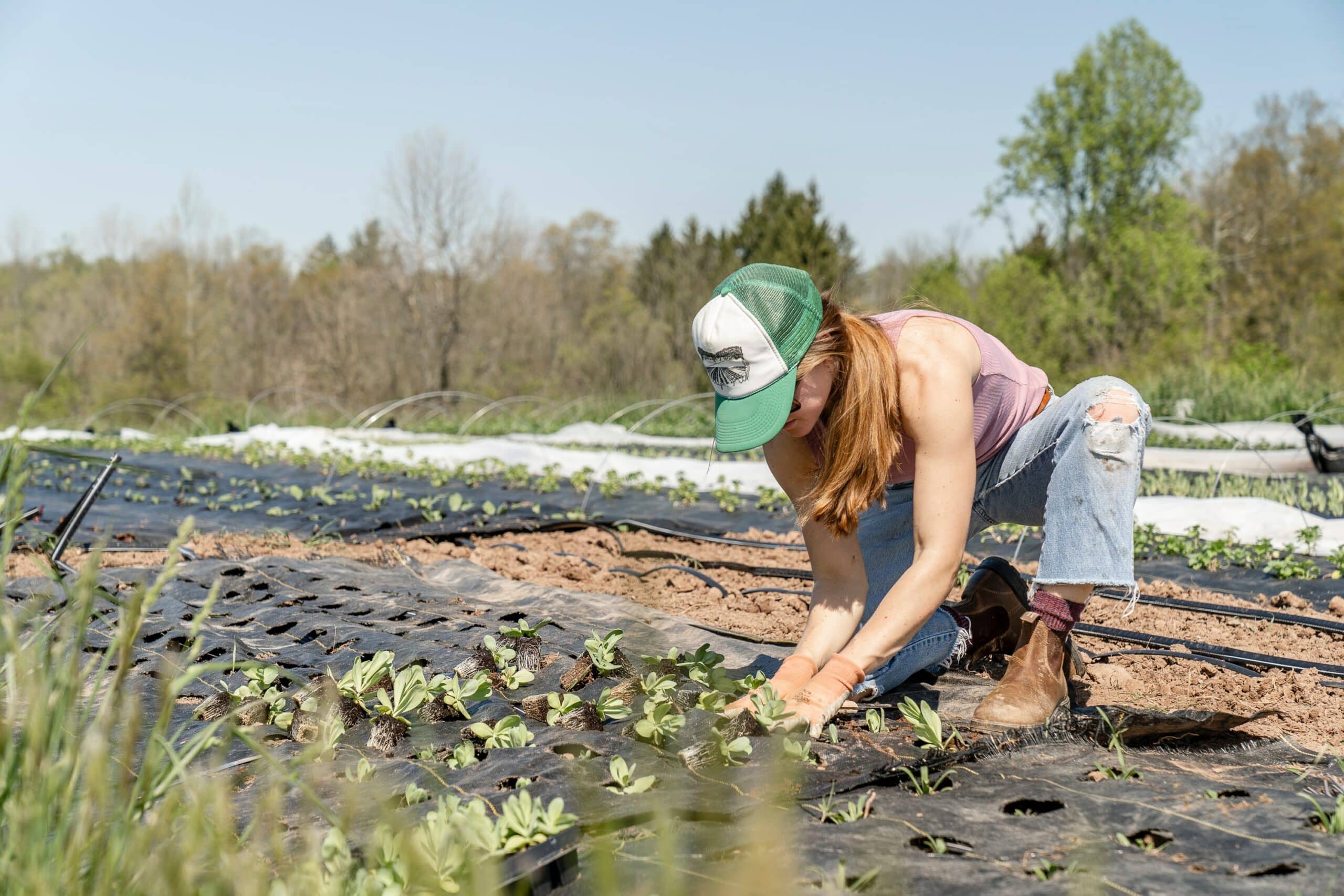 So what's holding women back?
Just like all farmers, there are plenty of challenges facing female farmers.
"Getting land is going to be the biggest challenge," notes Tanya King, an Upstart Farmer at Painted Sky Farm, echoing a common problem. "If a person is going to do vegetable production, ask about leasing 1-3 acres near a water source. That much acreage is nothing, if the rest is leased to livestock. [Or] offer to clean up a vacant lot by gardening on it."
Of course, being able to grow vertically in a greenhouse – increasing production on a fraction of the land – can help ease entry into farming for females and males alike.
So then there's got to be a bigger issue, right? What's causing this disparity in female vs. male farmers?
While I'm sure there's many contributing factors (that could be the subject of several intense studies), Lee Spiegel, an Upstart Farmer at Pulsaki Grow, makes a compelling argument:
"I think the biggest challenge for women farmers is that most women just dont think they can or should be farmers. I believe there is a strong cultural basis for this but really I think it is now a marketing issue. Just check out the fertilizer ads that run before the Bright Agrotech YouTube videos, how many women farmers are in them? Not one that I have seen so far. If we want more women in farming, then women have to be able to see themselves farming."
And we admit – we're just as guilty. There aren't many female farmers gracing this site. So we think it's about time to show off the amazing female farmers we know in our Upstart Farmers community.
Who should we be watching out for?
Here at Bright Agrotech, we have the pleasure of working with passionate, talented Upstart Farmers every day.
So who are the female farmers to keep tabs on?
Here are a few…
---
Lee Spiegel
Pulsaki Grow, Draper, VA
How long have you been farming? "I have been a backyard gardener for close to 30 years but I am brand new to the business of farming!"
What is your role at the farm? "My title is Program Director but I am chief planner, head carpenter (except on workdays when the real carpenters show up), grant writer, volunteer coordinator, PR person, alternative energy explorer, secretary, youth trainer and organizer, and executive seed starter. I pretty much do a bit of everything with wonderful volunteer help."
Why are you a farmer? "I was looking for a business that I could use as a vehicle for enhancing my youth training program as well as a way to sustain the program. I have piloted a workforce readiness training program for teens for the past 3 summers but it has been my dream for 29 years to do it inside a working business. I knew that if I was going to build and work a business for the rest of my (hopefully long) life then I wanted to do something I enjoy but would also benefit my community. I live in a rural area so farming and teaching youth to farm in a sustainable way spoke to my heart."
What encouragement or advice do you have for young women who want to farm? "Young or old, the first step is to get your own set of power tools and learn how to use them! Second, dont be afraid to try something you have never done before. Those of us that are newbie farmers come in with new eyes and what ifs. I think that is where all the really cool ideas come from. So seek out all the good advice you can get but feel free to go jump outside the box! That is where you will find all the fun."
Check out another article Lee is featured in here.
---
Marilyn Yamamoto
Fresh Start Greens at Cowboy Trail Farm, Las Vegas, NV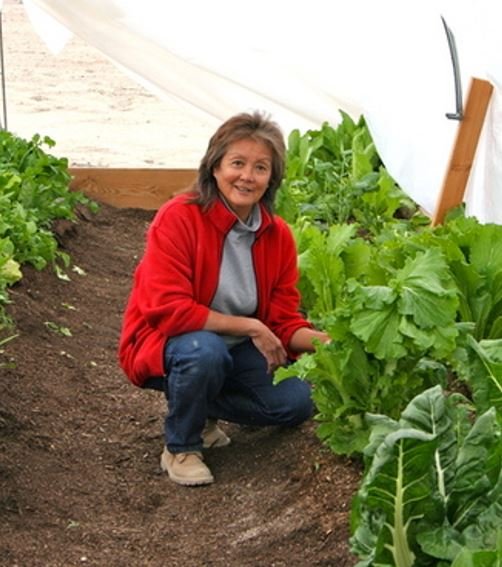 How long have you been farming? "4-1/2 years. [I've been] gardening on a much smaller scale over 30 years."
What is your role at the farm? "Main Farmer – from morning til ? – seeding, weeding, planting, watering, harvesting, washing, and coordinating our Indoor Farm Stand at our farm."
Why are you a farmer? "I started our Cowboy Trail Farm to give back to our community. We grow fresh and healthy organic produce, donate to those in need, educate families to learn to grow their own food and have special events such as Farm to Table, Farm to Yoga, and more. Informative workshops to improve one's health by eating healthy foods. We are aware of what is happening with our food sources: mainly, GMO and imported produce causing havoc and illnesses to many families."
What encouragement or advice do you have for young women who want to farm? "Go for it! It's a wonderful way to grow your own food, feed others, and watch the amazing smiles you get from working with Mother Earth."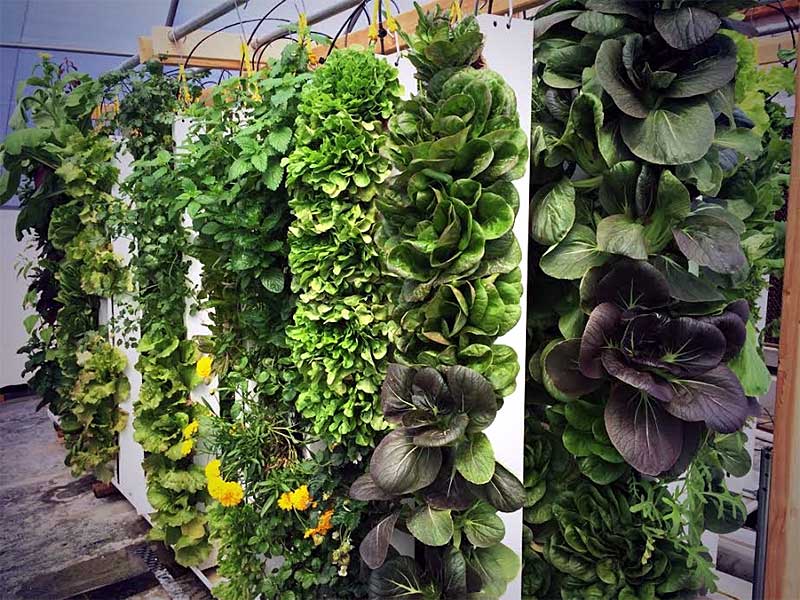 Here's a shot from inside Marilyn's greenhouse at Cowboy Trail Farms.
---
Tanya King
Painted Sky Farm, Kinnear, WY
How long have you been farming? "I've been farming/ranching since about 1990, so…twenty five years."
What is your role at the farm? "The farm is fairly small, so I've done everything…seed selection to plot layout, planting, mulching (a must for saving time and water), irrigation system design, installation and maintenance (also a must for time saving), raised bed construction, greenhouse construction, pest control, harvesting, marketing, delivery, and bookkeeping."
Why are you a farmer? "There is something almost spiritual about working in nature with plants and animals. I would encourage any young person to do it. My belief is "follow your bliss". Farming/ranching is mine. A person may not get rich in dollars – but their life can be as rich or richer than anyone or any other life style. "
What encouragement or advice do you have for young women who want to farm? "Just do it. There will be mentors. You will get great experience, eat good food, meet lots of different kinds of people, and live a good life. There will be other women that you can team up with and learn from and cry with (that happens). "
---
Sarah Ulloa
Good Taste Farm, Fallbrook, CA
How long have you been farming? "We started Good Taste Farm in 2013. For the five years prior to starting the farm, I studied Agronomy then advised farmers on natural resource management as part of my job."
What is your role at the farm? "I am the co-owner of Good Taste Farm with my partner. We do nearly everything ourselves from seed to harvest to marketing to tasting (the best part!). We grow an incredibly diverse number of specialty crops and much research and thought goes into the produce we sell at local farmers' markets in the San Diego area."
Why are you a farmer? "I feel like being a farmer is a good and wholesome way to live life. Feeding people is an important job and we as farmers are tasked with providing our communities with healthful, safe food. My initial interest in becoming a farmer began with a passion for cooking and the realization that homegrown tomatoes are the greatest food ever. From there I became interested in heirlooms and sustainable agriculture."
What encouragement or advice do you have for young women who want to farm? "Go for it and don't overthink it! Manage your health and finances so that farming can be sustainable for you over the long haul."
Click here to follow Good Taste Farm on Instagram!
---
Kate Hofman
GrowUp Urban Farms, London, UK
How long have you been farming? "My business partner and I founded GrowUp Urban Farms at the start of 2013 so Ive been farming for just over 2 years."
What is your role at the farm? "Im a director of the company and responsible for the business management of GrowUp."
Why are you a farmer? "I love food! And I think that everyone who lives in cities has the right to have access to healthy, delicious and sustainable produce."
What encouragement or advice do you have for young women who want to farm? "The same advice Id have for anyone who wants to farm growing food is incredibly satisfying, and knowing that were starting to create a new and more sustainable food system makes urban farming a really exciting place to work so dont be afraid to make mistakes and start growing."
What do you think the future holds for women in farming? "At the heart of our business is sustainability and innovation to improve the food system. Were focused on creating meaningful employment and training up the next generation to work on urban aquaponic farms that can reduce the environmental impact of agriculture and grow things differently."
Tour the GrowUp Box
---
Mandy Zammit
GrowUp Urban Farms, London, UK
How long have you been farming? "I am currently undertaking a six-month internship with GrowUp Urban Farms as part of my Climate-KIC Masters Label. I began my mobility in October 2014 and the internship is coming to an end this March, after which Ill start work full-time with GrowUp Urban Farms."
What is your role at the farm? "My role in the company is that of a project and business administrator."
Why are you a farmer? "I feel that people have always and more so now, wanted to know the origin of their food and how it was grown. My background is in sustainable chemistry and I have a keen interest in climate change mitigation, so when I met the GrowUp team, I was immediately intrigued by this concept of growing sustainable and fresh produce in the heart of London without compromising on quality and doing my bit to save the planet."
What encouragement or advice do you have for young women who want to farm? "I have always been told that if a man can do it, a woman can do it even better! I dont think your gender should decide what you can and cannot do in life – so follow your passion and go for it! So, I think its amazing if more women find roles in the urban agriculture sector as this will create more awareness and hopefully create a wave of change."
Why do you think it's important to engage women in farming? "I feel everyone should have the opportunity to be part of such a blossoming area of expertise. I picture urban farming to become an essential part of our agricultural methods and where the job title urban farmer is a ubiquitous turn of phrase."
---
Women farmers are inspiration and innovative
What more can we say?
These are the farmers of today, and we're inspired by their work and innovation on their farms.
Let's get Farmer Josephine up there next to Farmer Joe.
If you're inspired by these women, then we encourage you to look into becoming an Upstart Farm(her) as well.
Are you a woman farmer?
We want to hear from you! Get in touch by filling out this form.