At ZipGrow HQ it's a collaborative open workspace where it's not uncommon to hear overlapping conversations about steel trusses and variance of yields…in strolls a member of the grow team with a live bee hive and now it's a "garden party".
The Farm Research and Development Team are a fun bunch of self-confessed plant nerds. If there was Jeopardy for botany, this team would bring home some serious cash. They are an integral part of ZipGrow's existence.
There are a lot of crops you can successfully grow in a ZipGrow Tower and we don't voice this based on an assumption. From the beginning, ZipGrow has always invested heavily in Research & Development (R&D) to benefit both our farmers around the world, everyday growers, and ongoing innovation.
The ZipGrow Tower is at the center of all our hydroponics systems but ongoing R&D is the root of our success. It provides insights that lead to improvements on existing processes in controlled environment agriculture (CEA). It also allows for the exploration of opportunities to reduce operating expenses and optimize crop-specific yield production.
Shedding light on R&D
We're fortunate to have two dedicated research and development facilities, a 1500sq foot indoor ZipFarm in a controlled environment at ZipGrow headquarters in Cornwall, and a 2000sq foot greenhouse operation in Kemptville. Day-to-day operations of both farms include maintenance, research and monitoring crops.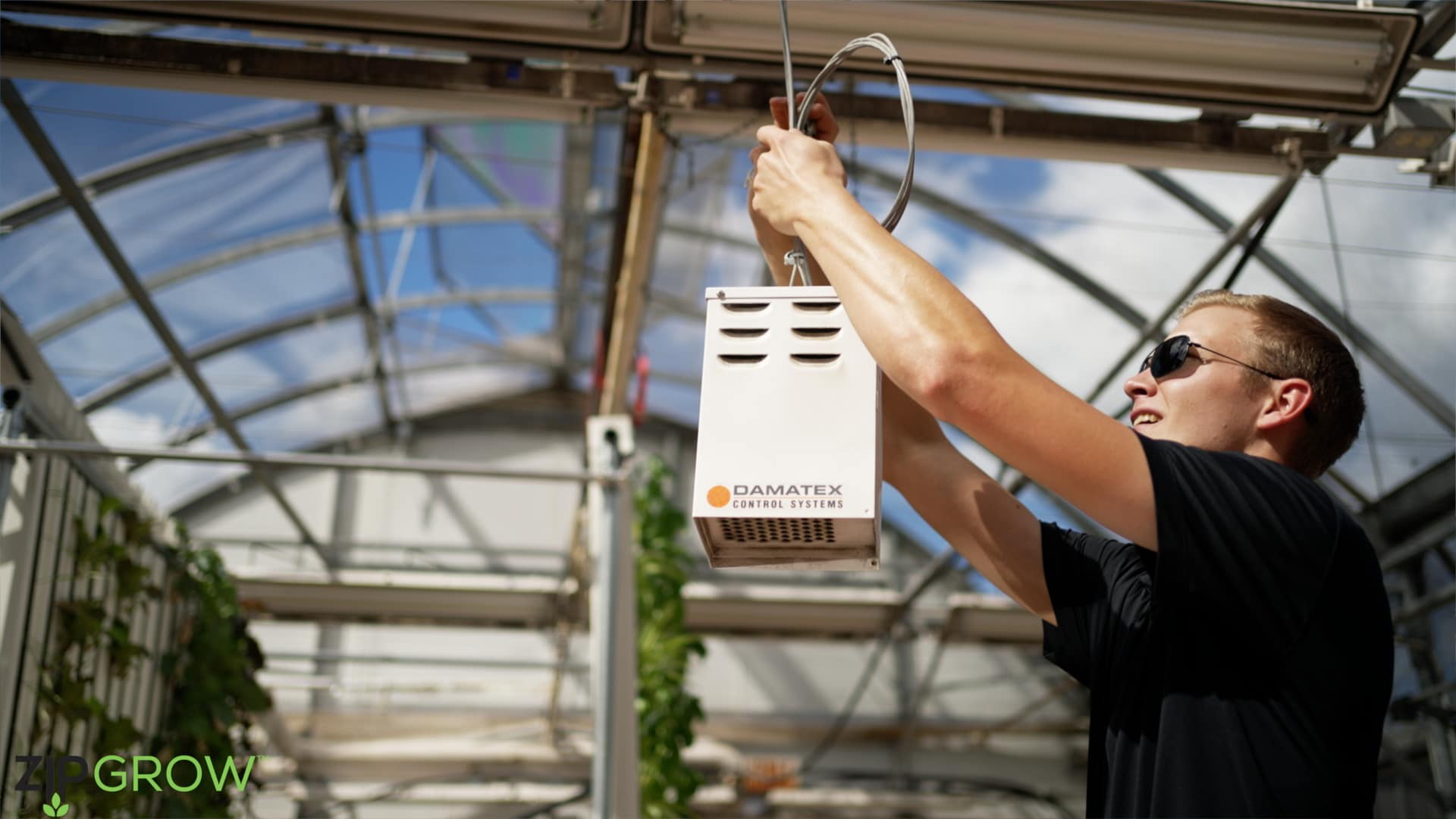 Tyler Harbers is the Manager of Research & Development at ZipGrow and heads the grow team. Tyler has a Bachelor of Science in Agriculture from the University of Guelph with a major in Horticulture.
His team includes several full-time staff as well as co-op students on-boarded throughout the year.
The direction of the research comes from both customer feedback and assessing what will benefit ZipGrow farmers directly. There is also time for discovery; this pure research allows the team to try new concepts and push the limits of what can be grown in a ZipGrow Tower.
Tyler assigns a crop trial to a member of staff or student who then follows this from inception through to completion- logging data, managing that crop including PH and EC levels, pruning, harvesting, and monitoring water quality. There is also considerable effort put into integrated pest management (IPM) to improve efficiencies to track pests. Staff will create new forms and new scouting plans, which is the path that you would take to identify the pest during a daily walkthrough.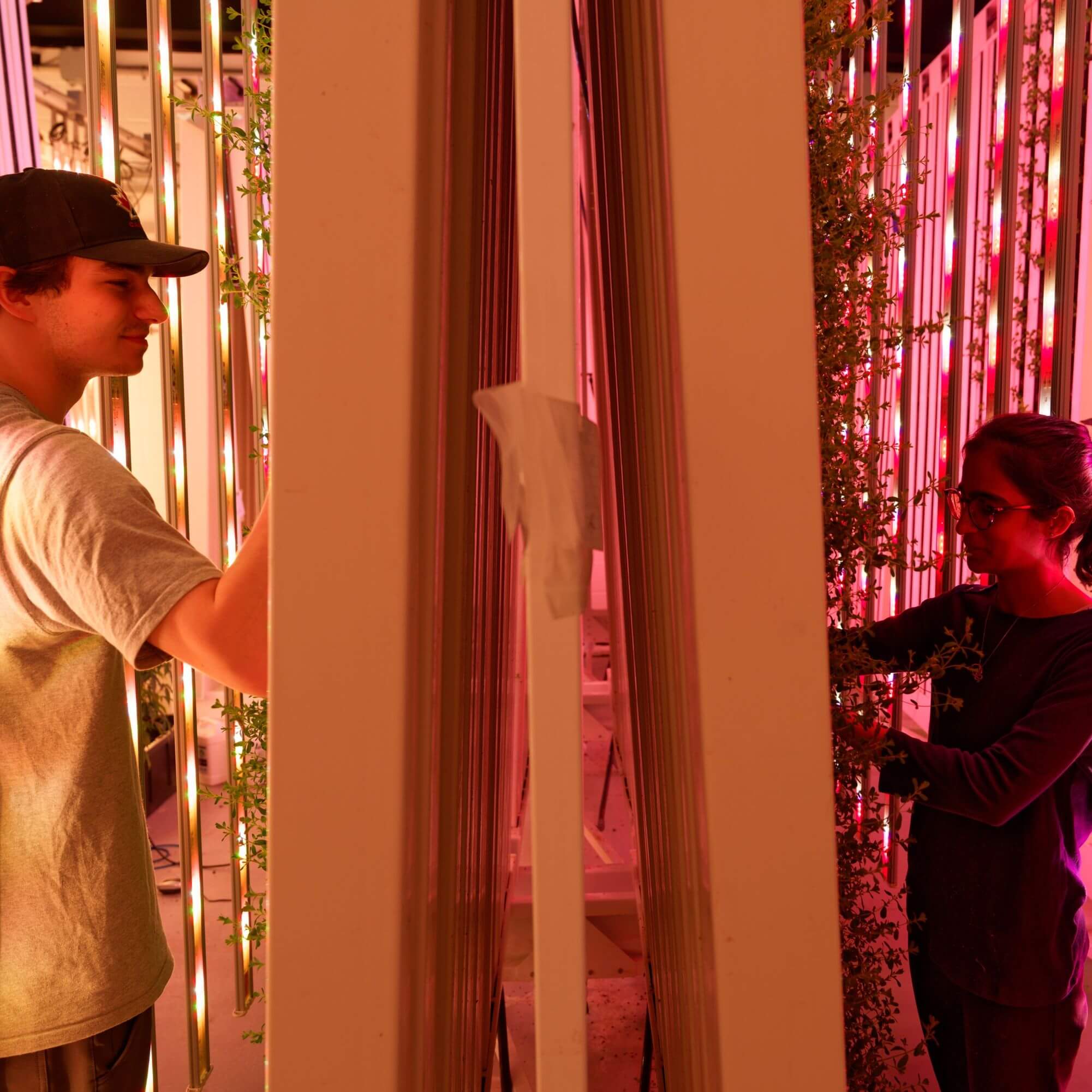 "We give them to the students to see if there are any labor efficiencies, are we seeing more pests slip by, are we seeing less, we then compile this information to see what works best", says Tyler.
The team will dig into individual changes that lead to improvements of the system or improvement of the crop, very minute changes that can be 1% here or 0.5% there. "Our job is to find all those percentages, and add them up so that you get something that resembles between a 5 -10% gain, which on an economic level is pretty significant," explains Tyler.
Alex Shaw is a research associate at ZipGrow with a background in medical and pharmaceutical growing. His skill set involves writing forms and procedures and implementing them.
When trialing new systems, technologies, or species of plants there are no standard operating procedures (SOPs) already created so there's a lot of trial and error. "The most important part of any research is record keeping because we are looking at data trends to see improvements," explains Alex.
Most ZipGrow farmers are busy operating their farming business. They understandably don't have the time or the resources to trial new products for financial gain. This data aids their decisions on what to grow.
Angus David is one of the research growers at ZipGrow. He came from a traditional agricultural background where he ran market gardens and CSA. When he started with ZipGrow he had no prior experience with soilless growing. "I was very on board for the ability to control things in a very finite and detailed way. The ability to work with plants year-round and through Canadian winters is very rewarding."
Angus has run trials on numerous crops in the Towers "It's so rewarding to see our expectations blown out of the water. It's impressive to see larger stature fruiting crops, like spicy peppers with the trunk coming out of the wall. It's visually stunning."
The team has grown many traditional hydroponic crops such as leafy greens and herbs but also run trials on various berries and larger stature crops like aloe vera, eggplants and cut flowers.
The research conducted at the indoor farm allows for more environmental control and tighter variables than the Greenhouse. The sealed climate-controlled environment with LED lighting has been purpose built for optimum healthy plant growth.
While greenhouse settings have the benefit of harnessing the sun's true potential the environment can change from day to day, season to season, so this poses additional data tracking and considerations.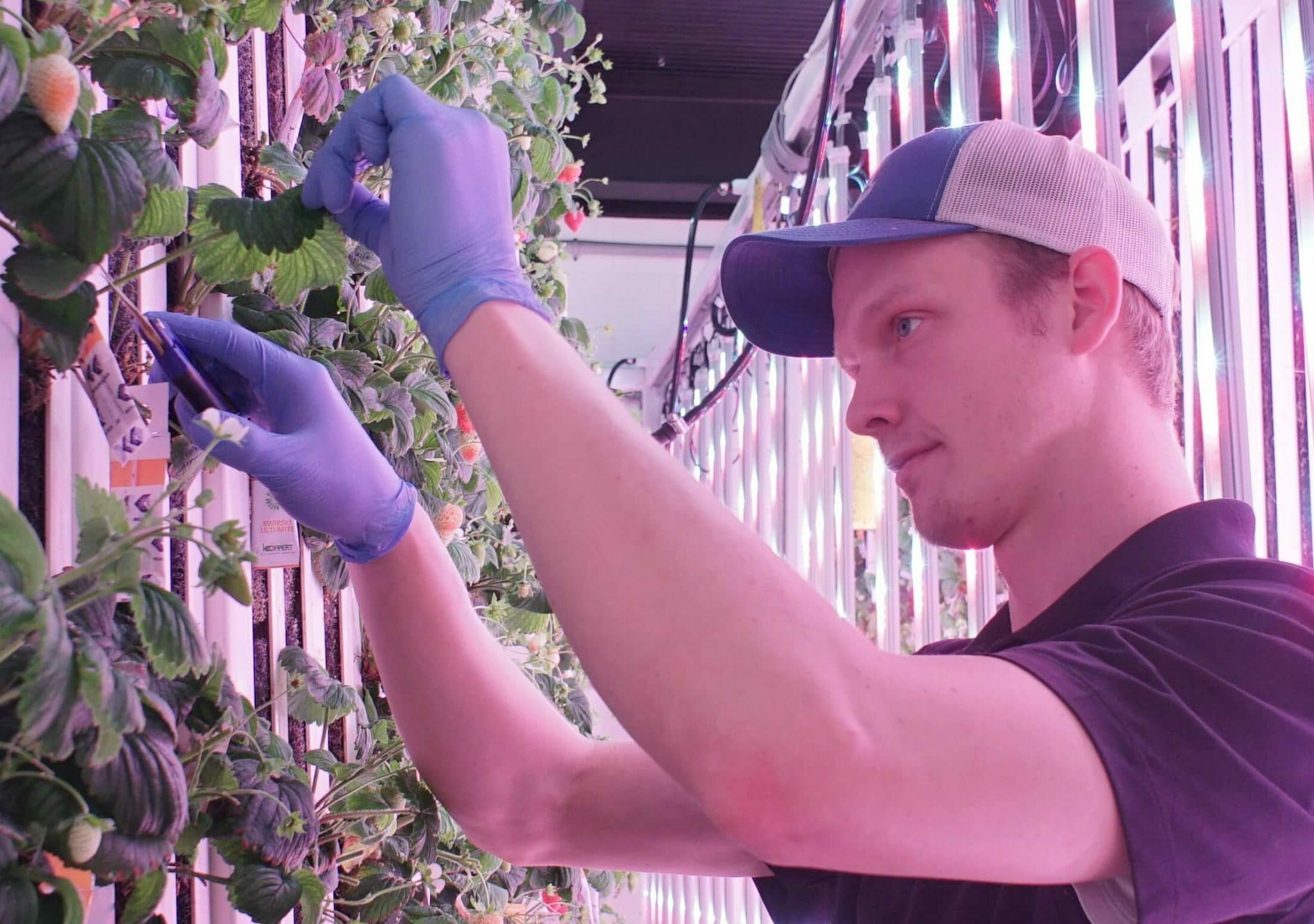 "One trial of strawberries may not come in as well as another," explains Tyler, "we have to be able to take into consideration changes in weather and light levels when we look at yields and performance of a crop."
"We try to remove as many variables as possible" continues Alex, "sometimes that means adding supplemental lighting to prevent swings in light values which can allow us to focus solely on the environmental variable."
In both facilities, the team is very conscious about keeping track of accurate data and to account for all variances so that the metrics they provide to modern-day growers are realistic and achievable.
"We believe there is an element of business ethics when communicating yields and expectations, and the farmers need to be aware of what they realistically are going to produce," explains Tyler. "Instead of best-case scenarios which are often used as marketing tools in this industry. Anyone can take the best yielding head of lettuce and multiply it across the number of plant sites, but that is often an unlikely scenario and not best managing farmer or grower expectations."
It is also an important consideration that the amount of energy and resources reflect the yield and quality output. Continued efforts are made in the research and development stage into improving operational costs and energy consumption as more technologies evolve. "We are always looking to find the intersection of environmental and economic sustainability in a production system".
Innovation
If the engineering team is the ying to innovation at ZipGrow then the R&D team is the yang.
Research and development goes beyond crop types and is often the first stage in the development process for new innovations.
"We work with the engineering team pretty closely to develop new technologies, new pieces of equipment and then trial them in the farms " explains Tyler. "This is to improve efficiency, productivity, ergonomics, and ease of workflow."
"We always joke internally that our job is to break the farms, so that customers don't have to" adds Angus.
Paving the way
In the scope of farming, ag-tech is relatively new. One of the challenges is that there aren't decades of data that can be drawn from, often this means that ZipGrow is pioneering the research. "A lot of this research has never been done before which is the justification for such a significant research and development department" explains Tyler "we have to figure out many things from scratch which is also very exciting."
CEA goes beyond leafy greens and as businesses look for crop diversity and to be able to offer a wide range of fresh produce to their customer base, ZipGrow is at the forefront of the research to test what is possible and viable.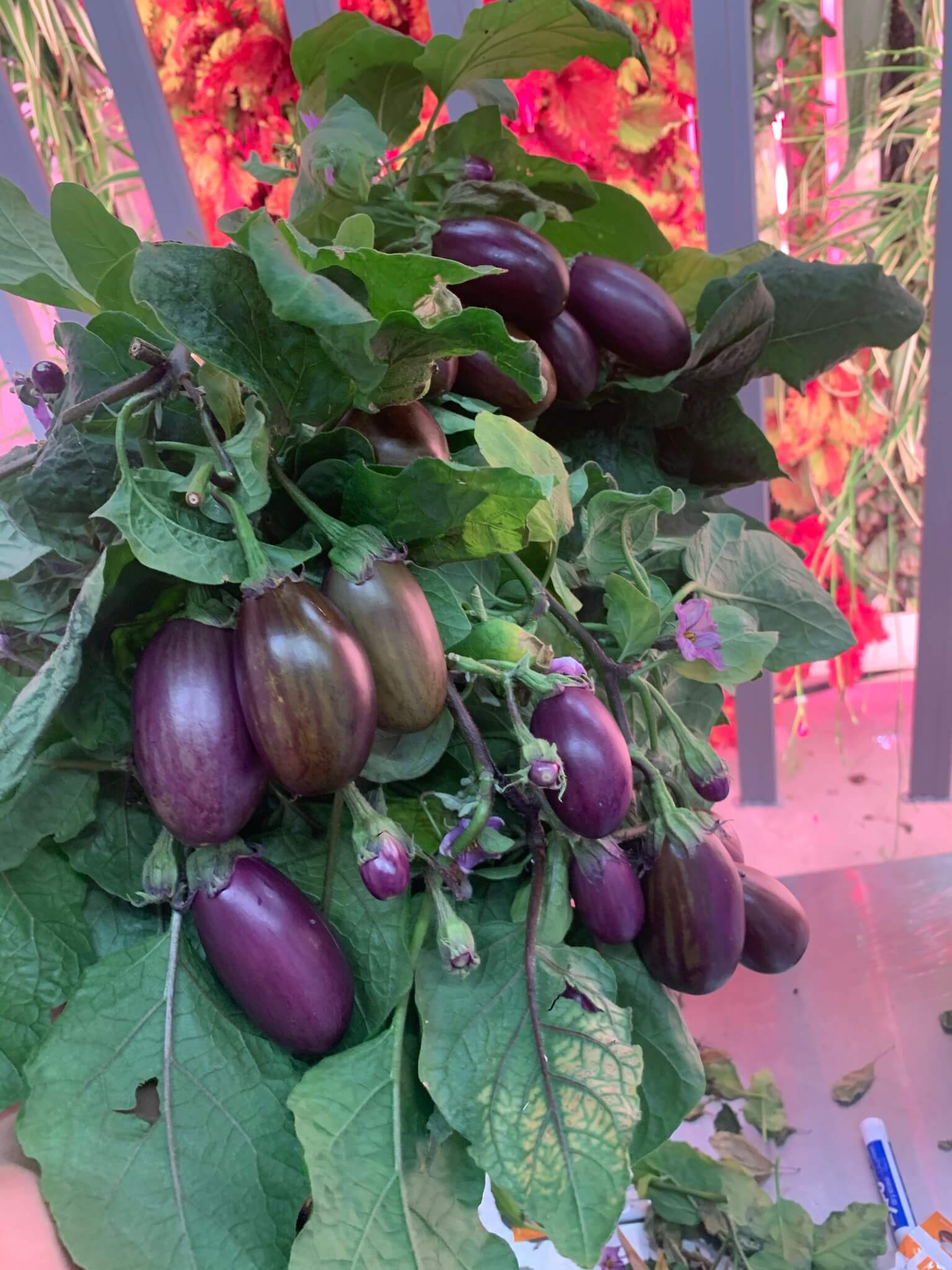 The R&D team is also instrumental in providing hands-on training to new farmers either on-site at ZipGrow or at their new farm business. Their knowledge and expertise expands beyond plant science and covers wellness and workflow in the farm to assist small and medium-sized businesses in reducing operating expenses. Supported by the teachings at UpStart University on hydroponics 101 plus marketing and business acumen, a new modern-day farmer will be fully equipped to operate a successful farm.
ZipGrow applies for various research grants and looks toward partnerships with like-minded companies that can be of mutual benefit.
"We are fortunate to be in both a province and a country that supports agricultural research significantly," says Tyler. "The government of Canada definitely sees the need for all aspects of agriculture".
ZipGrow is involved in many research programs in partnership with regional and federal government programs, including the National Research Council's IRAP program, programs through OMAFRA (Ontario Ministry of Agriculture, Food, and Rural Affairs), and Agri-Food Canada.
Peas in a pod- Collaboration
Fresh healthy food production is a sector where demand exceeds supply, so when it comes to collaborations, Tyler feels that it's friendly terrain.
"We are all working towards the common goal of food security, in some spaces other Ag-Tech companies may be considered competitors of ours but we would rather work with them and benefit each other and the communities we serve."
Tyler and the rest of the management team networks with companies and organizations that have like-minded directives and goals. 'A great example of this would be lighting" says Tyler. "We are not lighting experts, we are vertical farming experts. We work with our valued partners and trial their equipment to get the best possible final product. The knowledge from the research benefits us both and allows us to consistently improve our services and product offering."
"What we think we know now is not what we know," says Tyler "specifically with biological organisms. There are so many factors and so much to come. What we know about yields, productivity and efficiency now is just the beginning and is exciting for the future of what's to come!"