Visually stunning, the projects of Green Iglu create safe spaces for locals to grow fresh food, gather, host classrooms, and heal together. 
Green Iglu supports remote and Indigenous communities, social programs, health & wellness centres, and schools in Canada, building a place where fresh food, local culture, wellbeing, and education prosper.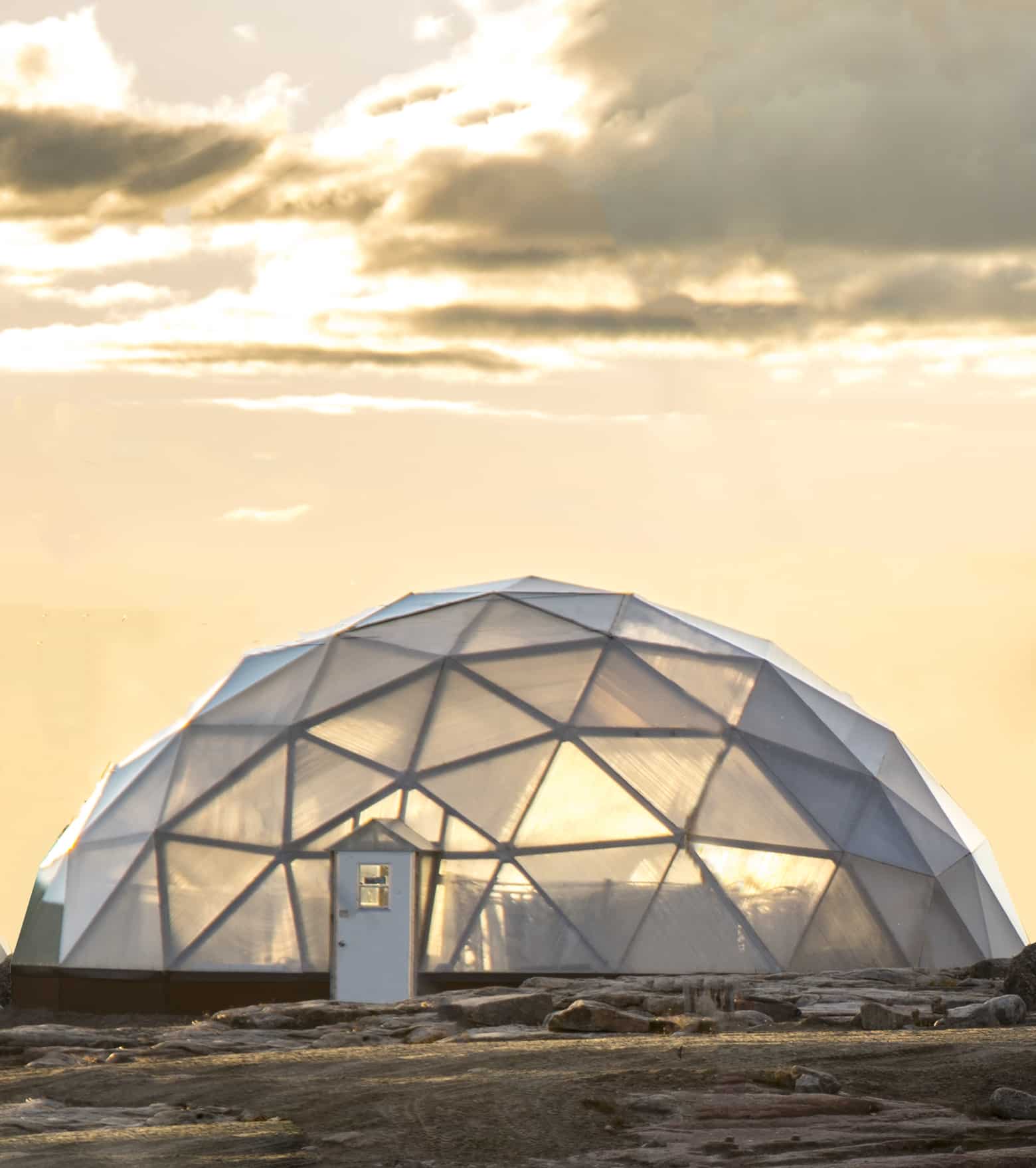 This non-profit organization based in Toronto helps visions of food sovereignty become a reality. Their business model revolves around three pillars to success:
Technology

Educational programming

Community training
They truly take a community approach.
We recently connected with Paige Deasley, Marketing Director at Green Iglu, to learn more about their organization and the communities they serve.
What started as a student-led project in 2013 transitioned into a registered charity in 2019. The first project started in Naujaat, Nunavut, a community on the Arctic Circle, and Green Iglu has since been invited to communities across Canada.
At the core of each project thus far is the Growing Dome®, a geodesic-shaped greenhouse designed to provide an environment where food production can thrive, regardless of location or the time of year. The domes are built tough; fully equipped to take on the harshest of Canadian winters, and can handle 7ft of direct snow and wind speeds over 180km/hr.
Construction of the domed greenhouse infrastructure is a collaborative effort between community partners and Green Iglu's knowledgeable team to provide low-cost, locally grown nutritious food.
"We really want to be that connection for communities to reach the goals of their project. They come to us with their own goals of a project and their own ideas of what they would like it to include and then we help guide them in what we think would be best to reach them" explains Paige.
The Growing Dome® is a flexible, inclusive space designed for year-round growing. Within the dome, hybrid growing systems include but are not limited to: raised soil beds, hydroponic units (including ZipGrow Towers), and hanging planters.
They recently partnered with ColdAcre Food Systems to also offer hydroponic container farms and soil-based greenhouses that harnesses and reuse waste heat from the containerized system to further extend the growing season. 
Each project is co-created with the communities they work with, and full training and support to maintain the projects. Their team is very conscious of ensuring that communities expand sustainability within their means, aligning with their goals.
"It's the communities that ultimately reach out to us; they best know what their needs are."
When looking at a newly built Growing Dome®, sometimes it can be challenging for people to visualize the endless possibilities for filling the space. First, the team talks with the community about their vision and then offers recommendations before securing the project. 
Here are some 3D visuals of the design options they would present based on their conversations.
Once the community is on-board with the final design, the Green Iglu team sets up the greenhouse interior to match their vision with the help of hired local contractors. They support local as much as possible and provide options for every community's budget ranging from $5k to $500k. The community then retains ownership of the greenhouse. 
The assistance from their organization is needed now more than ever as Northern and remote communities in Canada pay three times more for fresh food, and prices are steadily increasing due to disruptions in the food supply chain and inflation. 
An educational focus is the main drive for their partners, and it is crucial to increase the capability and capacity of growing food before embarking on any major production facilities.
Green Iglu outsources the systems with key partners like ZipGrow Inc., and they continually look at expanding to a complete diet. With many parts of the North having year-round permafrost, the Growing Dome® is perfect for a soil bed system to produce heartier, calorie-dense produce such as potatoes and carrots. They recently expanded their offering to incorporate chicken coops. 
"The options are endless with the domes and that is what we have seen over the years".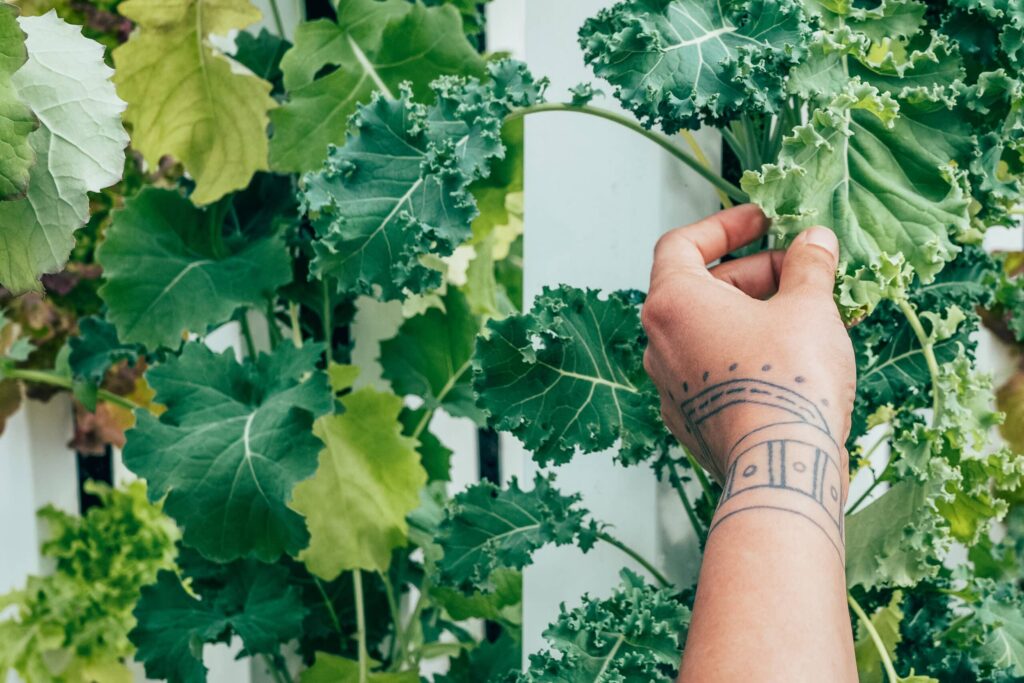 Zipgrow Tower systems grow fresh food and healthy greens in several of their community projects, they are used as an educational tool to learn the basics of hydroponics. Once communities have learned how to operate and use a hydroponic system confidently, some look into increasing hydroponic units to expand their production.
Some of these remote projects include:
St Lewis, Newfoundland & Labrador;

the most easterly permanent community on the North American mainland.

Port Hope Simpson, Newfoundland & Labrador;

 a town located on the southeastern Labrador coast 215 km from the Quebec/Labrador border. 

Wemindji, Fort Severn;

the most northerly settlement in Ontario

Lax Kw'alaams, British Columbia;

an Indigenous village community located on the North Coast of BC near Prince Rupert.

Mississauga First Nation, Ontario;

one of six communities that make up the Mississauga Nations across Ontario.
The Lax Kw'alaams project was developed In 2021, a student-led project at the Coast Tsimshian Academy that includes a 42-square-foot greenhouse dome. Community members use the dome as a tool to produce fresh food locally while the students explore nutrition, science, and more. During the build process, the team at Green Iglu planned workshops where students practiced germinating, seed transplanting, building and filling raised soil beds, and composting.
As Paige explains, it's been a positive experience for the community as a whole. "One of the teachers had commented on how it is making the school a lot more approachable to the community, providing a positive environment, especially for Indigenous leaders and elders who don't necessarily have that positive association with schools."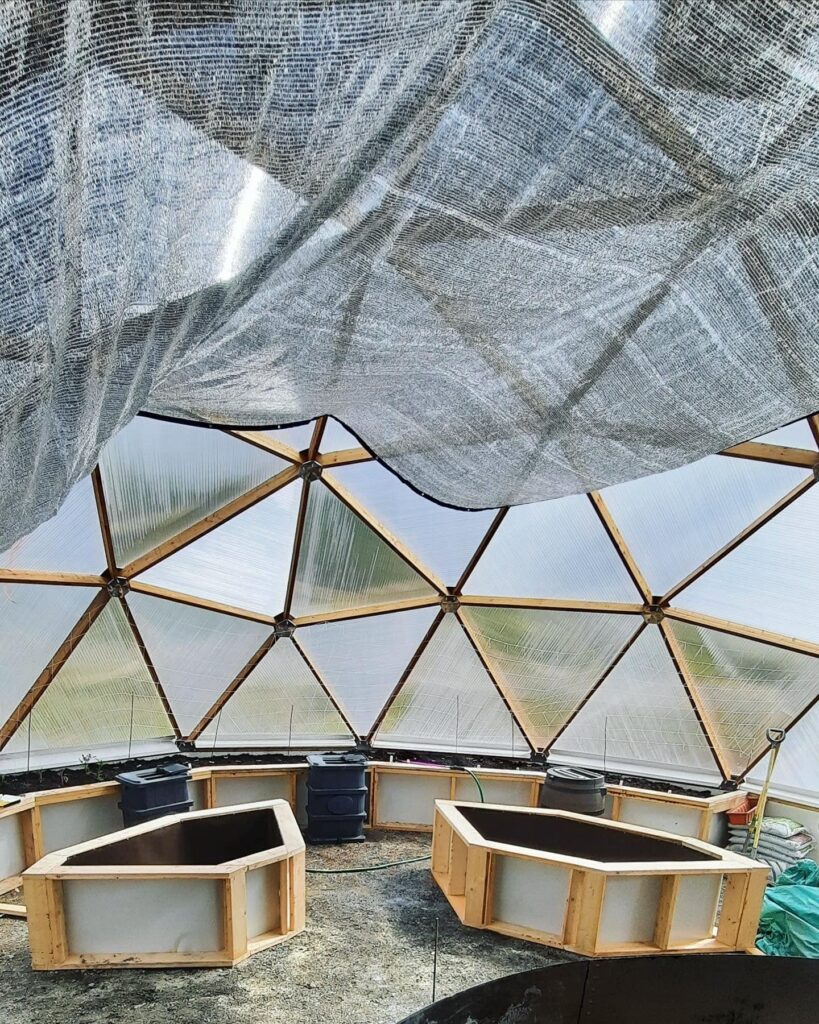 In one of their more recent projects with Mississauga First Nation, the goal of this build centered around providing year-round access to local and fresh produce for locals, restaurants, vendors, and daycares. 
It also offers young community members education and the opportunity to learn how to garden. Inside their 33-square-foot dome is a thermal mass, ZipGrow hydroponic Towers, and raised soil beds using the Hügelkultur method. 
Educational opportunities expand beyond these planned projects, and Green Iglu hosts webinars with expert guest speakers about tackling food sovereignty in Canada & how individuals and communities can join the movement. Their spring 2022 lineup included sessions on Remote Communities & their Food Journeys, Supporting Local Food Heroes, Education's Role in Food Security, Indigenous Foodways & the Future.
Green Iglu assists communities in seeking the required funding for their projects.
"We help with finding grants and funding for the domes and any system and project, walk them through the process, submit applications on their behalf, gather information on their project goals, and help them find the right places to submit their applications."
Funding for these types of projects doesn't always come easy and so Green Iglu launched the Tomorrow Harvest Fund, which provides an opportunity for one-time support or monthly donations from individuals and organizations. The fund aims to put food systems back in the hands of the people, and 100% of the donations go towards various activities, including; greenhouse operations, education unit implementation, building food production facilities, and community training.
In addition, they have connected with school boards to help guide them through the fundraising process. "Schools get really creative with their fundraising," said Paige.
Most recently, North Dundas District High School – UCDSB raised over $9,100 for Green Iglu partner communities by hosting several events. Monies raised went directly to the community of Listuguj, Quebec, to support the Alaqsite'w Gitpu School and First Nations Regional Adult Education Center with warranty repairs, upgrades, and assistance with their Growing Dome greenhouses.
"It can be hard to imagine that there are communities that are experiencing food insecurity. It's a lot closer to home than we think it is. The greatest success you can ask for is educating students, having them learn how to grow and support themselves so that they don't have to rely on grocery stores, and leading students down the path of working in the field of food security and food sovereignty."
Green Iglu is a valued partner and reseller of ZipGrow's technologies.
For more information on their initiatives, visit their socials:
All images provided by Green Iglu