Tim and Debbie Spinks – Moringa Havasu Farm
Along the California River, where lowland desert meets the California sun, lies the community of Lake Havasu, Arizona. Known for its 400 miles of stunning lake coastline and watersports, 300+ days of sunshine make it the perfect climate for beach sun and fun, but not so much for growing year-round crops. Scorching summers and very little rainfall pose challenges even for the most avid gardeners.
Meet Debbie and Tim Spinks; they have been navigating this problem with ingenuity and hard work.
Good Moringa to you
Their two-acre homestead sits 10 miles from Lake Havasu City and is surrounded by Moringa Oleifera trees. They harvest the leaves and process them into Moringa Powder which has medical benefits. Customers purchase it as capsules, powder, soap, and oil. Moringa Havasu is a small business that has served them well for several years.
You could say that Tim is an innovative, hands-on kind of guy. He built hot rods for over three decades. Think chrome, power, and speed. With the chops to take on a pretty extensive DIY job, Tim purchased a Sea Cargo Container in the fall of 2020 and began the initial stages of refitting it to grow food for personal use. 
They researched various designs and technologies for hydroponic systems, and after some trial and error, they discovered ZipGrow Towers. What started as a home hobby venture quickly transcended into a fully-fledged local business, providing access to fresh, healthy produce all year round.
"We saw the Farm Wall on the internet, and the next thing you know, we owned it! Now we have a fully functioning farm with no dirt," says Tim.
The container farm started with two 4 Tower Farm Walls.
It's been a labor of love to work on the expansion, and Tim has put blood, sweat, and sheer determination into this DIY operation that includes full insulation, lighting, HVAC, fans, and a seedling station.
Debbie invests most of her efforts in promoting the business and her "babies." 
"We are probably at about 95% germination for seedlings. We manage the farm twice a day. The building is what takes the time; the actual growing of the product has been easy."
Tim enrolled in UpStart University, and he went through the lessons on hydroponics daily as they renovated the container. He also does a lot of research through YouTube, including the ZipGrow channel. 
As demand increased, they slowly scaled up, and as of Summer 2022, their no dirt farm consists of seven Farm Walls for a total of 28 x 5ft Towers. They estimate they have approximately 350 plant sites within the container space.
Take a quick tour around their Farm
Debbie refers to their farm as their "Bougie Farm," and they consider themselves full-fledged Community Supported Agriculture (CSA) farmers. They have built up customers via word of mouth and social media and as an extension to their original Moringa business.
"Customers say it's the most amazing product they have ever had. It encourages me to do more and grow more varieties. It's a confirmation that we made the right commitment," explains Debbie. "The same people that value their healthy body and use our moringa are over the moon with the salad greens. Now that people are getting more information about this type of farming and how we use so little water, they are very supportive".
Tim and Debbie love color, and the more exotic, the better when it comes to the crops they grow. These include at least a dozen varieties of lettuce, purple lady Bok choy, rainbow swiss chard, and neon swiss chard, to name a few. Tim's favorites are Green Ice and Salanova, "anything with red."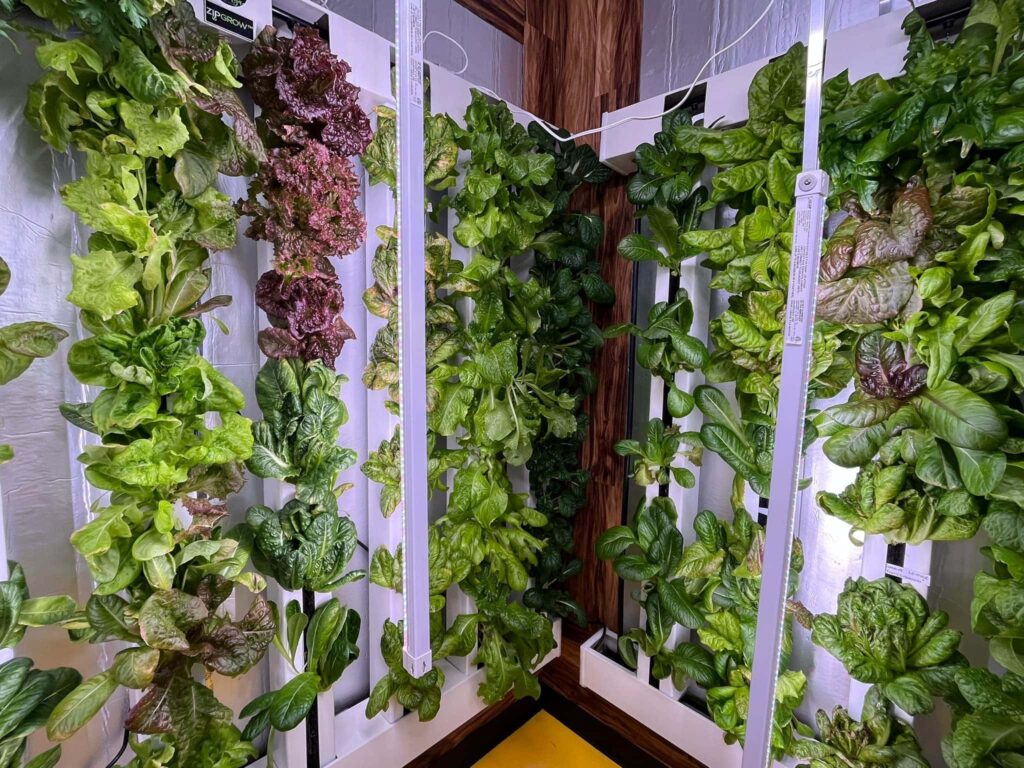 Tim confesses that he's never been "a salad guy" "So if I think the lettuce tastes good, then trust me, you're going to love it!
Their farm is successfully operating with a direct business-to-consumer strategy. They grow during the week and open the farm to visitors every Sunday. They also take week-day orders via text and deliver to businesses in Lake Havasu City (pop. 57,000).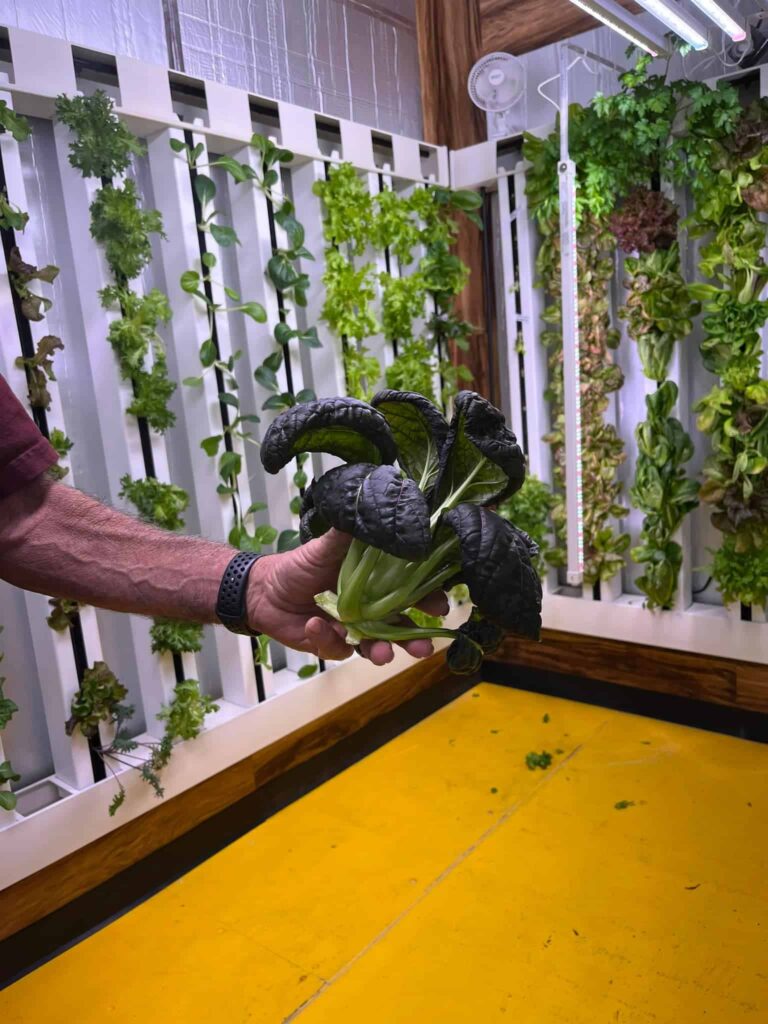 "It is work, but it's fun work," says Tim. "We try to educate people on their first visit. Most people that have come are genuinely interested in the way it grows and can touch it as it grows. It gives people an opportunity to participate. When people come by, it's like a social event, a place where neighbors can meet neighbors."
Debbie and Tim prioritize crop quality and value. They go above and beyond to give customers what they think is a fair market price compared to major retail stores. They're significantly reducing food miles, too, as most produce in that area typically comes from California or Mexico.
Sustainable futures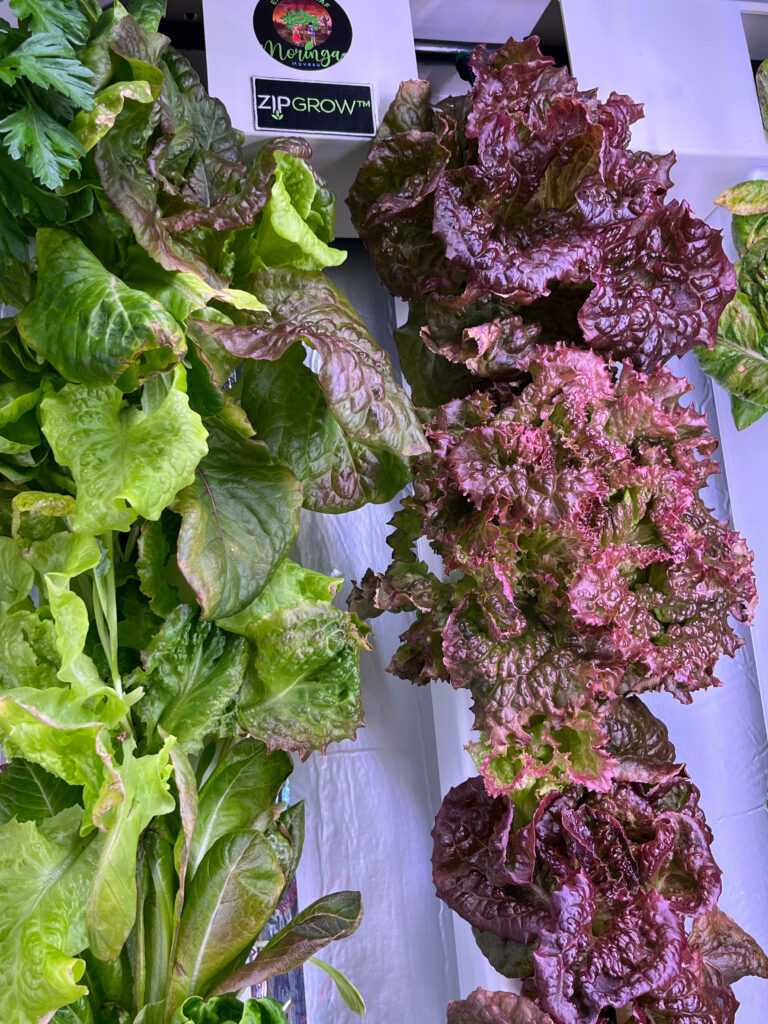 The container is situated just a few yards from their house. Debbie and Tim could literally roll down the hill to work. It's not uncommon for homes in this region to be powered by solar, which is true of Debbie and Tim's residence. The container connects to the house for sustainably produced electricity, and they manage the farm with only 3-6 gallons of water a day for water consumption. As they head into retirement, future goals would be to have multiple container farms on their site. "I believe this is the future of farming in the world," says Tim.
For now Debbie and Tim have reached a point where most of the optimizations of the container are complete and they can focus on the food.
"We see this as the greatest retirement for us."
Want to learn more about Debbie and Tim's no dirt bougie farm?
Visit their YouTube channel and Find them on Facebook 
This blog was featured on Vertical Farm Daily.