Modern education consists of much more than reading, writing, and math. These days, even for young students, curriculums around the world cover varying topics and many schools are starting to invest in agricultural education. This may include starting school gardens, partnering with a local farm for field trips, or investigating hydroponics and the science behind indoor growing.
Hydroponic farming is an alternative agricultural method where a substrate like gravel, Matrix Media™, or perlite is used instead of soil. As hydroponics gains popularity for growers constrained by space or markets, it also opens up hundreds of opportunities related to sustainability, food quality, and teaching. In 2017 we decided we wanted to make vertical hydroponics more accessible for teachers and students and set out to design a purposely built growing system for classrooms.
The resulting ZipGrow™ Education Rack is a hydroponic system utilizing our patented ZipGrow™ Towers. It's an easy-to-use system, mounted to its own modular rolling frame so it can be moved around and through any standard size doorway. The all-in-one system comes with LED lights and brings to life school classrooms while providing a delicious sustainable product. You can choose between a one sided or a two sided Education Rack. The one-sided Rack has eight 5' ZipGrow™ towers, and the two-sided comes with sixteen 5' ZipGrow™ towers. Each tower is able to produce around 4lbs of produce each week, depending on the crop. You can read more about the best crops to grow in ZipGrow™ Towers in our Quick Crops Guide.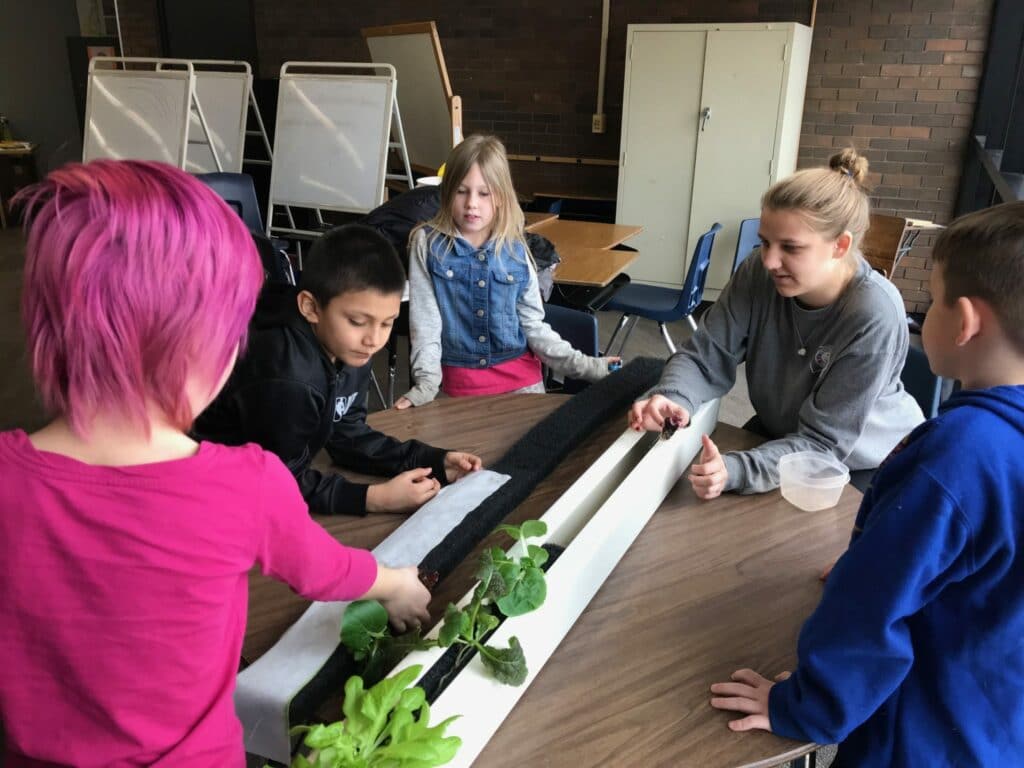 Benefits for Educators
Hydroponics has been around for a while, with a history that ranges from Aztec cities to WW2 outposts in the Pacific. In the last decade or two, however, hydroponic techniques have made a significant jump in sophistication and usability. With that usability comes not only benefits for farmers, but benefits for educators. Some of the benefits include:
1. A wide range of teachability.
Use of hydroponics has implications reaching from water conservation to space travel. It deals intimately with physical science, biology, engineering, chemistry, ecology, politics, and much more.
2. Growing plants fosters innovation and critical thinking skills.
With increasingly affordable and accessible technology, teachers can bring the latest growing equipment into their classrooms. They can inspire innovative thinking into the minds of their students. Your students need to develop the critical thinking skills needed to cultivate solutions to complex problems.
3. Increases conscience surrounding food issues.
Do your students know where their food comes from? Or even how it's grown? Do they know about the sustainable farming practices that went into growing our food, or lack thereof? We've all seen media stories about how children cannot identify basic raw fruits and vegetables and many people of all ages are more disconnected from agriculture than ever before. Students don't know who grows their food, what pesticides are used, or even how long it's been on a truck to get to our plates.
The first step to creating that awareness is showing students what the process from seed to plate looks like. Having students manage that process brings up questions like, "What if we were growing a whole farm full of this crop? How do farmers bring produce to stores to sell it?"
4. Hands-on learning opportunities.
Making the transition from ideas and problems on paper to real-life solutions can be a difficult process. Often, the movement from abstraction to reality is too big of a jump to make. But what if that jump was immediate? Hundreds if not thousands of educators are giving their students a chance to put lessons into practice right away by utilizing hydroponic growing systems like the Education Rack. Students learning about a plant's life cycle can watch it happen – and manipulate it themselves. Students learning engineering can apply their lessons by building a real hydroponic system.
Challenges of teaching hydroponics in the classroom
Of course, any intensive teaching method requires work; but having a hydroponic garden should require no more work than a small garden or a class guinea pig. Our Education Racks are designed to only need a few hours of hands on work each week to maintain and grow produce.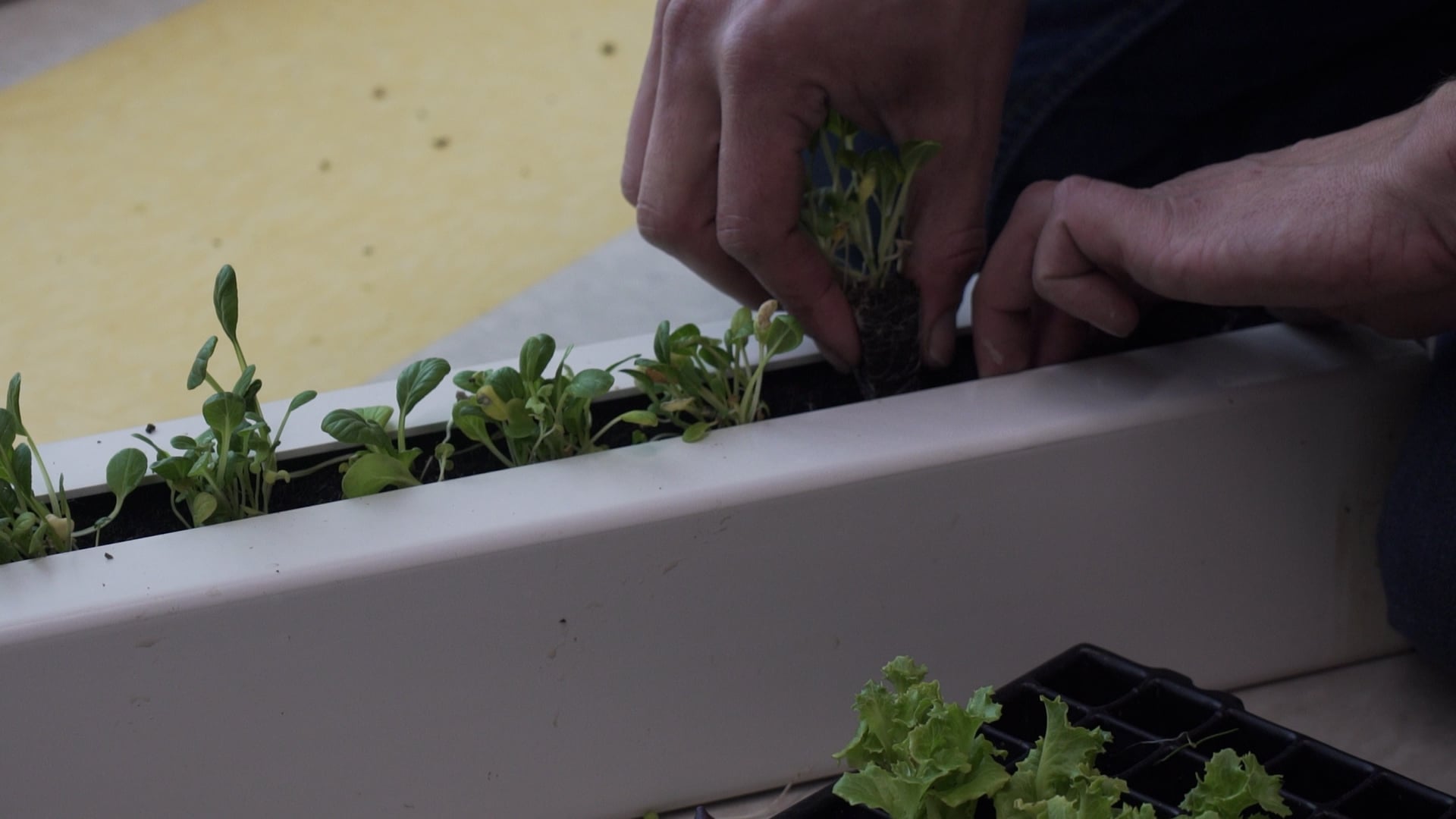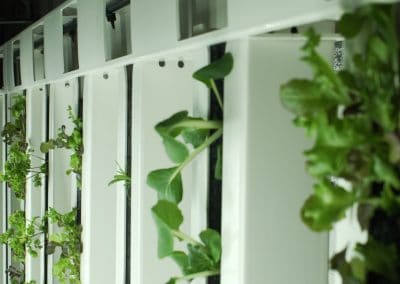 Frequently Asked Questions about classroom gardens
A common concern with beginning hydroponics is the logistics of system management. Here are some frequently asked questions about management of a classroom system:
Will the system leak?
Our Education Rack has all the plumbing components built into the system, so there shouldn't be any reason for leaks. Occasionally a plant will grow slightly crooked, which could cause some water to drip off the plant stem or leaf. This can be mitigated by ensuring all seedlings are planted at a 45 degree angle to the Tower. 
Does it need supervision on the weekends?
Simple hydroponic systems like an Education Rack are usually fine over the weekend. Some educators use remote sensing and automation to decrease the amount of supervision that the system needs. (And create new learning opportunities while they're at it!)
Can I shut it down in the summer?
Education Racks are easy to shut down at any time by unplugging and draining the system.
Where can I learn more about hydroponics?
The ZipGrow blog is a great place to start learning. We also recommend joining our teaching platform Upstart University to access an extensive number of onlines courses all about hydroponic and aquaponic growing. You can also take a look at our YouTube channel. Just keyword search the question/s you have and we probably made a video to help out.
ZipGrow Inc. has recently made shipping free for both sizes of Education Rack within Canada and continental North America. For all other locations, including Alaska and Hawaii, please contact [email protected] for a quote.